Historical perspective: The Highway 530 Mudslide is as bad as we think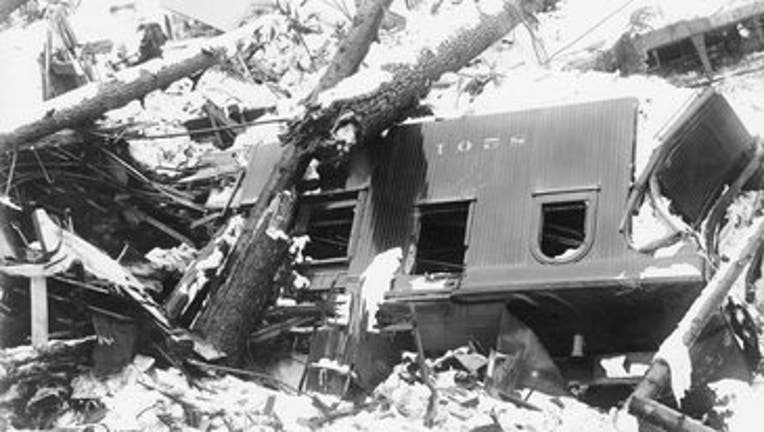 article


ARLINGTON -- Devastation is not unique.

That was my first thought upon coming to work yesterday for our fifth day of nearly exclusive Highway 530 Mudslide coverage.

Washington state has seen deaths from natural disasters before. Ninety-six dead in 1910. Forty-six in 1962. Mount St. Helens. Multiple earthquakes. As an avid snowboarder, hardly a winter weekend goes by where I don't notice

But the numbers have never been like this in my lifetime. Twenty-five people were confirmed dead, and 90 -- if not 125 -- people are still missing, presumed lost for good.

And as we quickly approach the deadliest natural disaster in Washington state's history, and deadliest landslide ever in the United States, I'm reminded that while I've seen numbers and disasters before, it's never been like this. It's only been in books and record sheets. Not as you hear it, searchers see it and we report it.

The deadliest avalanche


Washington state is no stranger to disaster.

In late February of 1910, the small logging town of Wellington, Washington, nestled below what is now Stevens Pass, was hammered with tens of feet of snow. For days the little town, which featured little more than a hotel and a train depot , saw as much as a foot of snow a hour. The storm was the latest in a string of tough winter weather, and loggers and their wives huddled in log cabins and group homes; eager for the start of spring.

A passenger train and a mail train on their way from Seattle to Spokane were caught in the storm and waylaid at the Wellington depot in heavy snow. Passengers hunkered down for the long haul until Feb. 28 when the weather gave in after days of blizzard. Snow changed to rain and a warm wind came from the west. Passengers crowded on the stuck train loosened their jackets and shoes.

Finally, they thought, we'll get going soon.

But that didn't happen. A lightning strike high above Wellington let loose a slab of the already embattled snowpack, causing a ten-foot high mass of snow to pummel down the mountain. Both stuck Wellington trains were hit, sending them hurtling down a slope and into the Tye River valley below.

Ninety-six people were killed in what is, to this day is, the deadliest avalanche in U.S. history. Only 23 train passengers survived. Most of the bodies weren't recovered for months.

Oso is less than 70 miles from the former train depot and small logging town of Wellington. It's less than 150 miles from Mount St. Helens, the site of Washington's most notorious disaster, where 57 people were killed in 1980. Oso is similar to the slopes and mountain town feel of the hills outside of Spokane where more than 87 people were killed in the three-state "Great Fire" of 1910. And the small Snohomish County town has seen it's share of battering wind and sideways rain, similar to the 1962 Columbus Day Windstorm that killed 46.

Oso is like all of the rural and mountainous towns Washington. But it could -- and likely will -- differentiate itself from the rest of the Evergreen State as the numbers of dead continue to climb.

The deadliest landslide in the U.S.? 

The Highway 530 disaster will go down in more than Washington history books. It will also rank as one of the deadliest landslides in U.S. history.

USA Today recently posted a story about the deadliest slides our nation has seen. According to the report, more than 500 were killed during a landslide in 1928, and more than 150 were killed in Virginia in 1969, hopefully largely surpassing whatever Oso's death toll turn out to be.

But those "landslides" were quite different than the one in Oso. The 1928 slide was caused when California's St. Francis Dam failed, sending millions of gallons of water rushing into a populated area below. The Virginia slides were counted during torrential, epic rains that fell as fast as 5 inches a half hour. Many of the dead were thought to be killed by drowning related to floods, not in the mud.

The third largest landslide, according to USA Today, struck Mamyes, Puerto Rico in 1985. Days of rain soaked the jungley hillsides of Puerto Rico, causing extreme flooding that many news outlets called the "worst in 100 years." During those heavy rains, a block of hillside broke lose and destroyed 90 homes.

Like Oso, there were warnings. Poorly built drainage systems and houses with little or no foundation contributed to the tropical tragedy. Like Oso, slides had hit that area of the island before, and would strike again.

No natural disaster is unique. Heavy rains and snows, variable slopes and long winters, cause avalanches. There are days of poor weather and small slides serve as warning from years before. Calls for change go unheeded, and heartache rings out when disaster strikes.

Devastation and disaster like Oso have happened before. And rains and slides will continue to strike.

Yet we've never seen it, reported it, or been in disaster like this. At least for as long as I've known Washington.