'Historic moment' in Seattle: One vote away from $15 minimum wage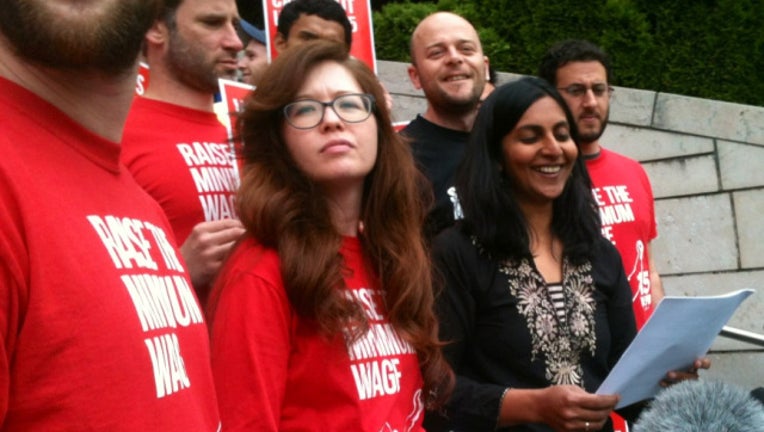 SEATTLE — Residents packed City Hall Thursday morning as the City Council members gave unanimous preliminary approval to an amended proposal to raise, on a phased-in basis, the minimum wage to $15 an hour for adult employees who work in Seattle.

The proposal still has to go before the full City Council for a final vote, slated for Monday, even though all City Council members were present as part of the recently formed Minimum Wage Commission.

One of the amendments approved will delay the implementation of the new wage from Jan. 1. to April 1, 2015. The vote prompted boos from the crowd, most of whom were "$15 Now" supporters who  advocate a no-exemption increase in the minimum wage.

The current statewide minimum wage is $9.32 an hour and is scheduled to rise to $9.54 an hour next year.

This proposal will change only the minimum wage for those who work within Seattle's city limits. The first increase next year would raise it to $11 an hour for some, $10 an hour for others. (See schedule below)

The City Council also passed an amendment allowing sub-minimum wage for minors and for those in training or apprentice status.



"We know that in order for employers to employ people, they have to be viable," said City Councilman Bruce Harrell. "Hopefully, we've listened to the concerns of the business community."

City Councilwoman Kshama Sawant proposed an amendment that would quicken the pace of implementation to now for big businesses and to three years for small businesses. But the amendment was voted down, again to boos.

"McDonald's thanks you," one man shouted from the crowd.

If approved, the new minimum wage would be the highest of any major city in the nation. More than 100,000 people working in Seattle currently make less than $15 an hour.

Small businesses, defined as businesses with less than 500 employees, have 7 years to reach the new minimum wage. For the first five years, those businesses will be allowed to factor tips, health care and other benefits into that wage, but not after that.

Even with the changes to the proposal, many business owners say they'll have to raise prices.

David Jones, who owns a Subway franchise, said a footlong sub may go up by more than a dollar.

"We'll all have to up prices," said Jones. "It takes our full margin out. Most restaurants make less than 10 percent. This takes 10 percent out of our margin."

Fewer than 1 percent of city businesses employee more than 500 people.

Businesses with more than 500 employees, such as McDonalds and other chains, will only have three years to implement the new wage, Seattle Mayor Ed Murray said. There are more than 30,000 employees in the city that worker for a company with 500 or more people.

There are no exemptions for any business at the end of seven years to pay less than $15 an hour. Once $15 an hour is reached, future increases will be tied to the consumer price index.

"It's absolutely and undeniably a victory for the movement," said Sawant, who has led the charge since running on the $15 movement . "Workers brought the political establishment to this point where the mandate, the public mandate for 15 dollars has been so strong."