Historic building in International District may collapse after fire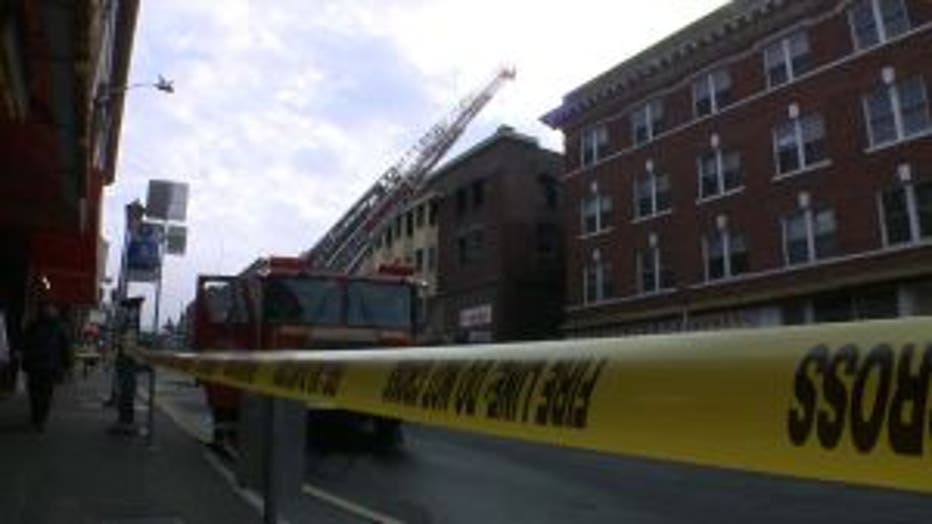 SEATTLE -- Firefighters are still on watch 24 hours after a huge blaze engulfed a building in the International District. That fire caused so much damage that the structure, located in the 660 block of King Street, could come crumbling down.

An entire block of King Street is still closed. Officials worry the fire and all the water they dumped on it Tuesday evening has weakened the fragile infrastructure.

Benjamin Ponsones lives in the building next door. He was worried when he saw all the smoke yesterday afternoon.

"Of course, it's close," he said. "It's only a few steps from our apartment, so it was really scary. And it was Christmas Eve."

Firefighters told him he couldn't go home, because they weren't sure if they could stop the fire from spreading. He spent the night with his sister-in-law. But not all his neighbors had family nearby.

"Some of them, they had go to shelters," Ponsones said. "They had small kids, there was old people."

Wednesday afternoon, fire crews restored power and let residents back in the neighborhood. But they say they're not ready to leave yet.

Although they believe the fire is completely out, they worry about the integrity of the building itself.

"Our concern is the overall structure of the building. We do not want to have any catastrophic collapses," said Lt. Sue Stangl with the Seattle Fire Department.

Bricks have been falling off the building since last night and the owners of those cars haven't been able to move them until today.

The fire forced nearly 50 people out of nearby homes last night but now that power has been restored everyone can go back to their homes.

The building was the site of Washington State's worst mass killing. The infamous Wah Mee massacre happened back in the 1980's. But the family who owns the property says the building is more than it's dark past.

"It defines Chinatown," said Timothy Woo. "The bakery, the restaurants, the bulletin board is on the wall. This is a historical building not just because of the Wah Mee club."

Fire officials don't yet know what caused the blaze and they can't start their investigation until they get some structural engineers to shore up the walls.

The city hopes to get that work started on Thursday.