Hikers ordered to 'leave now' as Maple Fire in Olympics doubles in size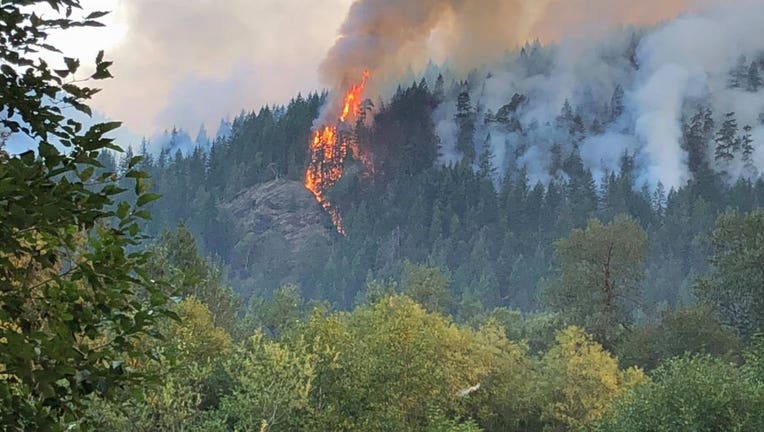 HAMMA HAMMA, Wash. -- A fire burning in the Olympic Mountains has nearly doubled in size in the last 24 hours prompting evacuations for hikers in a popular tourist destination.

The 810-acre fire dubbed, the "Maple Fire" is about 23 miles North of Shelton, Washington above the community of Hamma Hamma. Right now, the fire is only 5-percent contained.

The fire is burning in steep terrain on the Jefferson Ridge Line and North of Jefferson Creek. A level 3 evacuation has been ordered for Hamma Hamma Rd into Lena Lake area.

"This means 'Leave Now'. Don't wait, pack your stuff and leave the area," Olympic National Forest official said. "If you were planning to hike or recreate in the area, you must make other arrangements. There are many other beautiful areas along the Hood Canal or along the Peninsula."

The Olympic National Forest has closed the Jefferson Ridge Trail and Elk Lake Trail as well as their trailheads. The 2401, 2421, and 2480 roads are closed to public access.



About 160 people are currently working to control the fire. Crews and equipment ordered earlier in the week are now beginning to arrive.

Fire officials said they expect to have around 300 firefighters and more equipment by Friday.

"Our priorities are to keep the fire from spreading further East, North and South," said a press release.

The Maple Fire is the largest fire burning in Western Washington.

A public meeting about firefighting efforts has been scheduled for Friday, Aug. 10, 2018, at 7:00 p.m. at the Hamma Hamma fire station.