High wind warning in effect along Washington coast and western Skagit and Whatcom counties
BELLINGHAM, Wash. -- A high wind warning began Thursday night along the Washington coast and in the San Juans and the western parts of Skagit and Whatcom counties. It will remain in effect through the morning.

Forecasters say we  could see winds of 25 to 35 mph, with gusts up to 50 mph.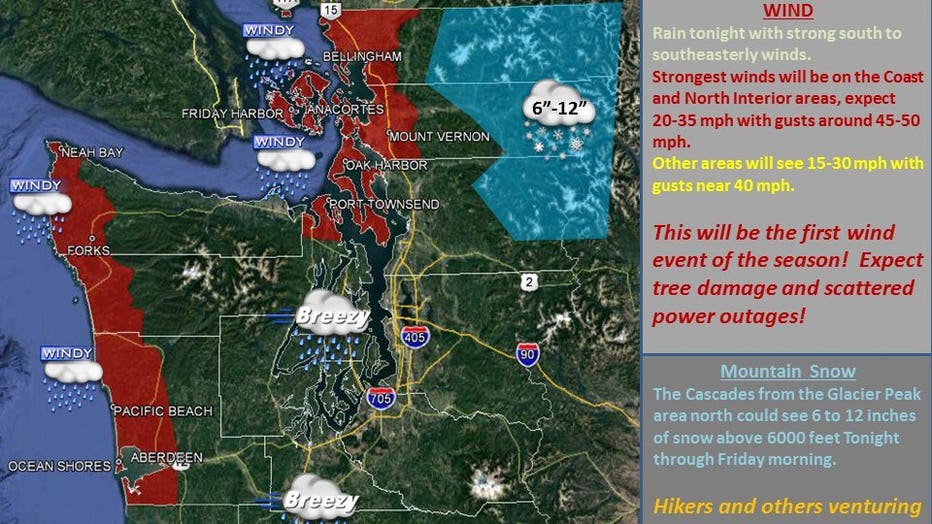 As rain starts to pound the pavement, longtime Bellingham resident Wallace Brown knows it's a sign that winter is coming.

"This is actually early for our winds here, it's not normal; it's not unheard of but it's just a little early," said Brown.

Brown says he started prepping his home as soon as he heard about the high wind warning looming.

"I pretty much took care of any loose ends around the house, I got all my all my wood tarped and my fireplace is going just in case we do lose power," said Brown.




The Ace Hardware store in Bellingham says business picked up Thursday with customers wanting to get a head start. Manager Seth Cooper-Font says people were especially on the hunt for generators or any items to winterize your home.

"We anticipated that people would come for insulation, so we have a lot of stock right now, so it will eventually be selling out," said Cooper-Font.

The Grays Harbor PUD also put out a warning Thursday about the high winds and its impact on power, so they recommend checking your outage prep kits and making sure they include:

-a flashlight and batteries

-a battery operated radio

-candles and matches

-non-perishable food

-water

-a manual can opener

Meanwhile, the National Weather Service: