"He's got a bag full of tools and it could be you next," says victim in Shoreline condo burglary
SHORELINE -- Shoreline Police are asking for the public's help to ID a burglary suspect at a condo building along Hwy 99.  Surveillance video from 4:16 a.m. on Wednesday, August 30th shows the suspect wearing a #24 black and white NFL jersey that could be an Oakland Raiders jersey belonging to Charles Woodson or Marshawn Lynch.  He is also sporting a black Oakley ball cap, yellow work boots and carrying a backpack using a wrench or vice grip to break open a key box outside the front door.  "He appeared pretty calm throughout the video as though he's done this before. Probably not his first rodeo," said King County Sgt. Jason Escobar.

The key he found inside the lock box was old and wouldn't work but he had the door code on a piece of paper and was able to use that to get inside.  "We have a building full of people now who are afraid because he can get into any entrance he wants at any time he wants to," said Jodi Dills.

The suspect used a screwdriver to try to break into the mailboxes and then took the elevator down to the parking garage where he prowled several vehicles.  "We have to change the locks. We have to change the code. We have to change the remote control because he got one out of cars on each level, so yeah. It's a lot of work and a lot of expense," said Dills.




It's not the first time they have had issues with intruders. "It's a problem. It's a constant problem," said Dills.  Most recently, a woman broke into the building and another man urinated in their elevator . "Aurora has brought us an enormous amount of traffic, foot traffic. We have people who sit out on the front porch who charge their telephones, smoke cigarettes but there's not a lot we can do about it at 2 o'clock in the morning," said Dills.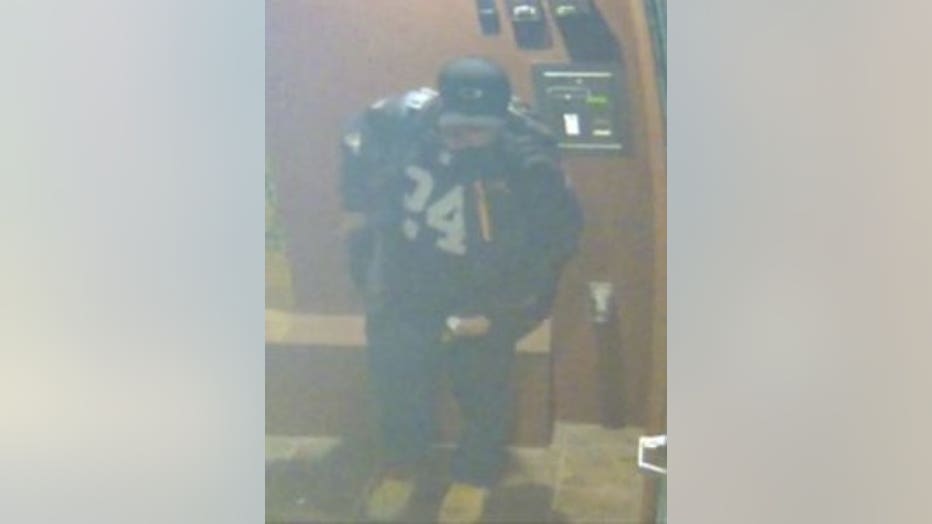 Suspect wearing a #24 black and white NFL jersey


However, this latest case is the most disturbing. "He knows what he's doing. He's got a bag full of tools and it could be you next," said Dills.

The suspect is white, in his 20's or 30's with a thin build. Crime Stoppers is offering a cash reward of up to $1,000 to anyone who can identify the suspect. If you know his name, submit the information by using the P3 Tips App on your phone or call 1-800-222-TIPS. Reference Shoreline PD Case # C17043019.

"We want this guy right now.  I'm concerned he's going to do this again. He had the digits to get into the building. He had possible inside information or did his surveillance of the complex so he's probably going to do it again if we don't catch him soon," said Sgt. Escobar.