Help ID burger-loving bad guy seen using credit card stolen from home burglary
WANTED IN PIERCE COUNTY --
Take a look at this burger-loving bad guy.

He's a fraud suspect who Pierce County detectives say used a credit card stolen from a home burglary in Gig Harbor on June 20th to feast at two fast food joints: A McDonald's in Gig Harbor soon after the break-in and just minutes away from the home and later that night at Burger Express in Federal Way.

Detectives say getting him identified could help solve a slew of crimes.

"What's great about taking burglary suspects off the streets is when we do find them we find lots of stolen property from many burglaries and when we catch a group or a person doing burglaries, we put an end to that ring," said Pierce County Det. Ed Troyer. "This was an extensive burglary. The burglars made a mistake when they went and used the credit card that was stolen, because we got good pictures of their vehicle and of one of the suspects and if there's more, we're going to find out, but we're hoping that somebody from the public and identify this truck and this person, because whoever it is is out there doing burglaries constantly." Detectives say the crooks also stole a computer and thousands of dollars' worth of jewelry from the Gig Harbor home. They got in by prying a window open and ransacked the place.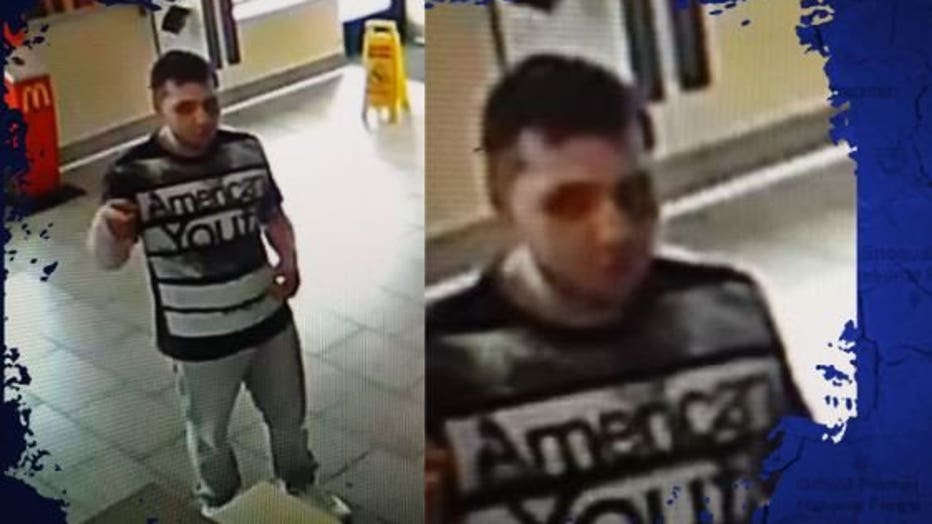 The pickup the suspect drove is a red 4-door Toyota with black rims.

Detectives think he's white, in his 20's, with a medium build, scruffy facial hair and wearing that 'American Youth' shirt.

If you know his name, use the P3 Tips App to submit the information to Crime Stoppers, or call the hotline at 1-800-222-TIPS(8477).

It's anonymous and you'll get a cash reward if your tip helps lead to his arrest.