Heavy snow falls on Snoqualmie; ski resort to open


SUMMIT AT SNOQUALMIE -- It is what Washington winter sports enthusiasts have been waiting for -- heavy snow at The Summit at Snoqualmie.

"The snow was just falling super hard last night, a little bit thinner down there, but it's looking nice as well. We were excited. We got up here and saw the coverage. All of pacific crest, that whole center run is just totally white and looking great," skier Tim Tietjen said.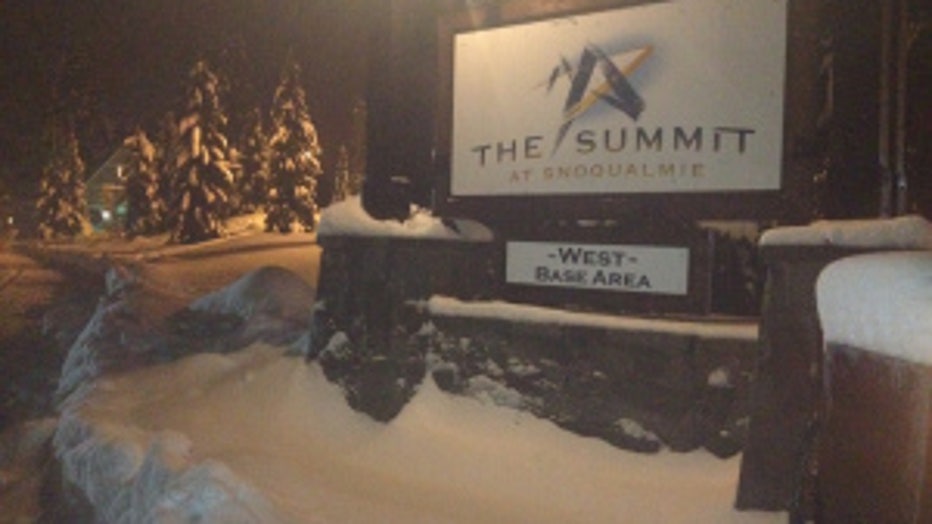 "We think it's fantastic. I mean how could it not be.  We've been waiting for this and here it is. We're happy. Our guests are going to be happy, our pass holders, everyone is stoked," The Summit at Snoqualmie spokesman Guy Lawrence said.

With snow on the slopes, crews spent the day on heavy equipment, grooming the runs on Summit West for its Friday morning opening day, a celebration a month late but one that will continue through the weekend.

"We're going to open right here Summit West tomorrow 9am to 4pm.  then on Saturday we're going to open Summit Central in addition to Summit West, 9am to 4pm and then for a lot of people the really exciting option Alpental opening Sunday 9am to 4pm," Lawrence said.

Guy says he expects Summit East, a weekend only resort, to hopefully be open by next weekend.

"We've got some heavy snow in the forecast, quite a bit," WSDOT supervisor Jason Pratt said.

Good news on the slopes, not so good news on the highway and it could make getting to the summit a real challenge.

Jason Pratt supervises WSDOT road crews working the overnight shift.

Their goal?  To provide safe travels for everyone who will make their way up the mountains this weekend.

A challenging job to say the least.

"We'll have a rapidly changing from snow to rain back to snow so we'll keep on things getting all those snow banks pushed back, get all that water going into the catch basins and then hopefully it will turn all back to that good snow what we could use up here," Pratt says

Good times ahead for boarders and skiers just come prepared to make sure you get there and back safely.

"Come prepared; full tank of fuel, your traction devices, chains or studded snow tires.  Be ready for rapidly changing conditions, so just slow down and take it easy and we're going to provide the safest road we can," Pratt said.

So again tomorrow's opening comes a month late, but there have been years when the resorts opened in November so you have to take the good with the bad.

The staff advices skiers and boarders to treat the slopes as if it's early season, observe all marked off out of bounds areas and look for signs to keep you on the right run.