Heavy rain in Western Washington: More flooded roads, mudslides


FALL CITY, Wash.-- In the foothills of the Cascade Mountains, the problem this time of year usually involves snow, but for the past couple of weeks the problem has been rain.

There's been so much rain that in Carnation, West Snoqualmie River Road Northeast near Northeast Tolt Hill Road had to be shut down because of water on the roadway.

Just down the road, near Fall City, SE 24th Street between West Snoqualmie River Road NE and 309th Avenue SE was also shut down, but that didn't stop drivers from going around, even though the water was license-plate deep.

"We have a lot of swamp land here and so when it rains, it can flood pretty easily and it's easy to lose control and end up in a ditch," driver Rob Mullins said.

Right now, the water is still rising in both locations and there`s no word yet on when the roads will reopen.

The rain has made driving a real hassle.

"Everyone needs to be really careful. And if you drive a four-wheel-drive truck, you need to understand you can still hydroplane and end up in a ditch," Mullins said.

Meanwhile, in south King County, landslides and mudslides have caused lots of problems.

Trees and mud crashed into a house near Auburn, ripping apart the walls and tossing the structure off its foundation.

Danielle Beck had to pull over and take a photo.

"My jaw dropped when I saw it because this house was way up against the hillside before," Beck said.

The house was vacant when the hillside crashed into it, but the road above it had to be closed.

The home sits just a short distance from another slide that closed West Valley Highway two weeks ago.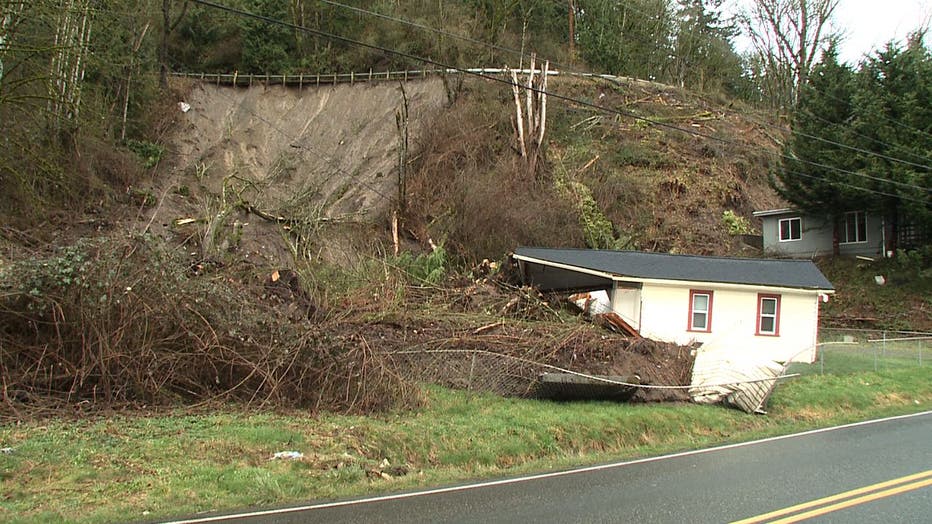 Mudslide took out a vacant house near Auburn. (Photo: KCPQ-TV)


"I can't imagine living in any of these houses up against this hill because every year there's a slide," Beck said.

The King County Road Services Division alerted motorists on Vashon Island late Wednesday night that Dockton Road SW at Portage Way has been closed due to a mudslide.

And while few people would want to play golf in this weather, if one wanted to at Seattle's Jackson Park Golf Course, golfers would have to settle for just the front nine. Because the 12th and 13th holes are flooded. The back nine is closed until the water recedes.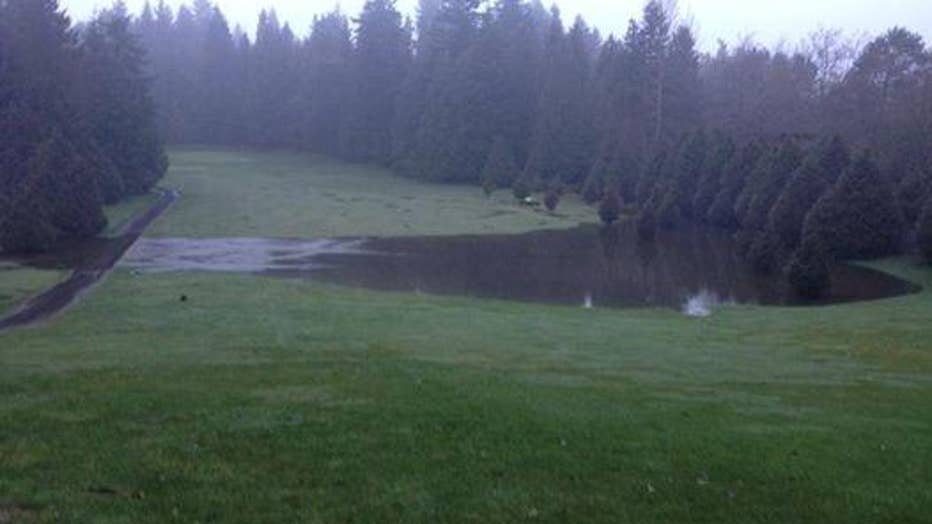 The 12th and 13th holes at the Jackson Park Golf Course are completely flooded. (Photo: KCPQ-TV)