Heavy mountain snow treacherous for drivers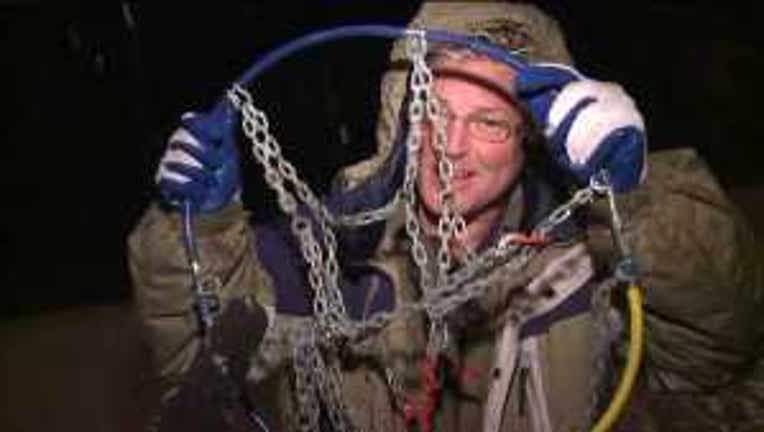 SNOQUALMIE PASS -- Rain, wind and a lot snow slammed Washington state Wednesday.

The mountain passes saw the brunt of the stormy weather, with as much as two feet of snow dumping in the mountains within a 24-hour period.

And while the snow is great for die-hard skiers, it's not always a welcomed sight for those driving over the pass.

Driver Calvin Ainley preferred to sing his blues to the tune of the famous Sammy Cahn Christmas jingle.

"Oh, the weather outside is frightful and the snow is surely falling," Ainley said, laughing. "But we are not that scared, because we have chains, we have chains, we have chains."



Interstate 90 at Snoqualmie pass was closed intermittently throughout Wednesday because of snow. It opened again at 10 p.m. Wednesday. Chains were mandatory on all vehicles without all-wheel drive.

"I guess they had a whole bunch of crashes over here," said one driver headed over the pass. "That's why it was closed."

Heavy snow and trees over the roadway closed State Route 542, the Mount Baker Highway, through Thursday. Stevens Pass on U.S. Highway 2 had compact snow and slush on the roadway, and traction tires were required. State Route 12 White Pass also had restrictions on heavy vehicles and required traction tires.

If your heading out to the Snoqualmie Pass area expect to see a lot of cars and trucks on the side of I-90 waiting out the heavy snow.  There are also a lot of stranded and abandoned cars. Washington State's Department of Transportation encouraged drivers to bring chains, pack an emergency kit, and always have an extra blanket in case the car gets stranded.

To keep up to date with the latest road restrictions around Western Washington, visit the WSDOT website.