Heaviest snowfall of season blankets Northeast; Many flights canceled
NEW YORK (CNN) -- New Yorkers awoke Wednesday morning to the sound of plows clearing the streets. In Washington, federal workers got in a few extra zzz's. And in Boston, parents scrambled to make other arrangements as kids enjoyed a snow day.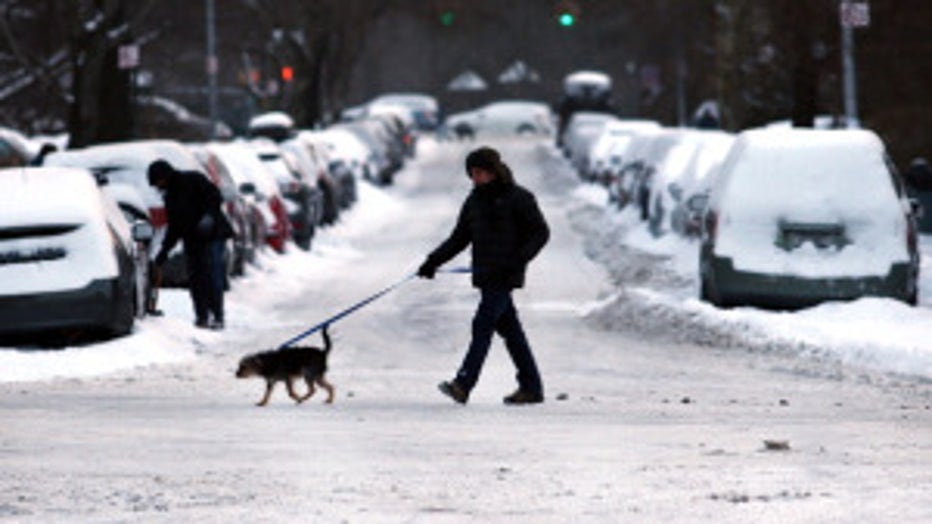 New York: Snow covered streets are viewed in Brooklyn on the morning after a major winter storm blanketed much of New York City in 10 to 12 inches of snow on January 22, 2014 in New York City. While the storm caused major traffic and subway delays, N


The heaviest snowfall of the season has blanketed the Northeast, with more than a foot falling in some places.

Schools and offices are closed, roads shut down and thousands of flights grounded.

Several flights scheduled to arrive at Sea-Tac Wednesday morning and early afternoon from Boston, JFK, Newark and Washington Dulles were canceled. (Check on flight status with your airlines.)

At New York's LaGuardia Airport, weary travelers spent a restless and sleep-deprived night on airport chairs and cold floors. Flight cancellations put hotel rooms in short supply.

Susan Otterstrom found out Tuesday that she gets to spend two extra days in the Big Apple, instead of returning to Illinois as planned.

"I got a call that (my flight) was canceled and I couldn't reschedule until Thursday," she told CNN affiliate WPIX.

Another traveler said she was resigned to living the concourse life until she can catch a flight out.

"I'm just going to stay here and work and doze and whatever," she said. "You do what you have to do."

More misery is in store as airlines have already canceled about 1,400 flights for Wednesday, after calling off more than 3,000 the day before, according to FlightAware, a flight-tracking service.

Driven by frigid Arctic air, the powerful system is making a mess of things up and down the Eastern Seaboard, but especially from Washington to Boston. A blizzard warning is in place for Cape Cod, Massachusetts.

"The greatest snowfall is likely for southern New England, where 12 to 18 inches of snow is a distinct possibility!" said D. Hamrick of the National Weather Service. "It will definitely look and feel like a winter wonderland."

Winter storm warnings and watches were scattered from North Carolina and Tennessee to Maine. The worst of the storm should push into the Atlantic later in the morning, forecasters said.

Did anyone mention the cold?

While the precipitation might head offshore, vast areas of the eastern United States are expected to stay in the icebox until the weekend. From the Upper Midwest to the Mid-Atlantic, temperatures will be 15-30 degrees below normal.