Heat + smoky air = health concerns returning to Western Washington
TACOMA, Wash.-- Pierce County's Health Department is warning that air quality in parts of the South Sound have taken a turn for the worse. The current air quality there is listed as "unhealthy for sensitive groups".

But for all of us, summer heat and wildfire smoke can be a bad combination. Add hours and hours outside and the problem can feel even worse.

Real stifling summer heat is something we don't see here in the Pacific Northwest all that often. West of the Cascades, Seattle only sees about four days a year of 90 degrees or warmer. Significantly hotter Portland only sees about 13 days of 90+ temps. So, many of us might not recognize that not being able to catch your breath, dizziness or nausea could be a sign of a medical emergency.




"It's been hot before," says Synterra Jones, a student at Kent-Meridian High School out on their practice field in the summer sun. "But today it was really hot."

The summer sizzle continues in the Northwest. We've had six days so far this year of 90+ temps and more than 35 days above 80. A typical summer season only sees about 26 days above 80 and the record of 51 was set just a few years ago in 2015.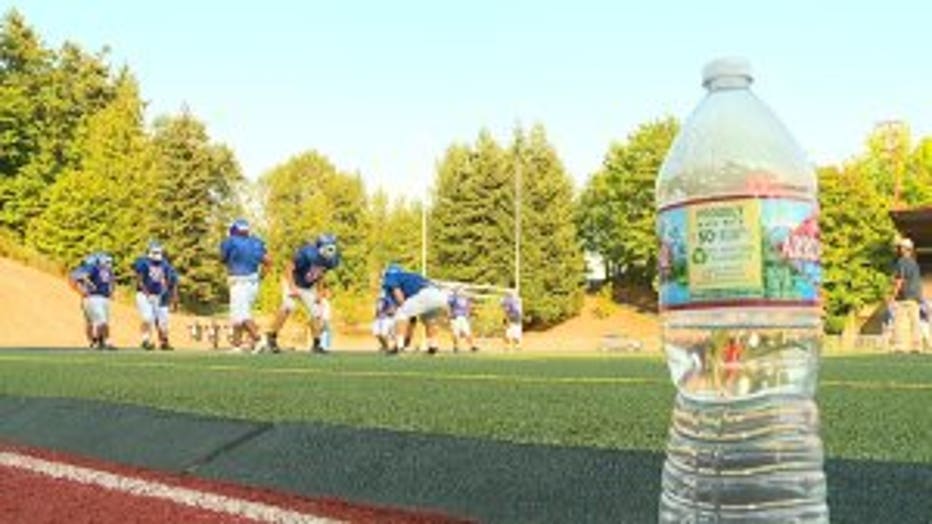 "Know your body," says Scott Jones, the coach of the boys' football team whose advice can apply to all of us who are active in this heat. "Listen to your body. Keep fluids in."

Some areas around Puget Sound hit the 90s this week, and while there's a brief two days respite ahead, the warmth returns this weekend. The Mayo Clinic says signs of heat exhaustion include dizziness, nausea or vomiting, sweating followed by cold and clammy skin, weak pulse, muscle cramps, headache or fatigue. One of the best remedies: water combined with rest.

"We have about 8 managers," says Jones, "and they are out there squirting, squirting, squirting, keeping water going. Keeping them hydrated and if they see something (wrong), say something."

What can make the heat worse when you're out exerting yourself is the smoke from regional wildfires. Our wildfire season peaks in late August and September. Currently there are wildfires raging as close as the Cle Elum area in Washington as well as in Oregon and British Columbia.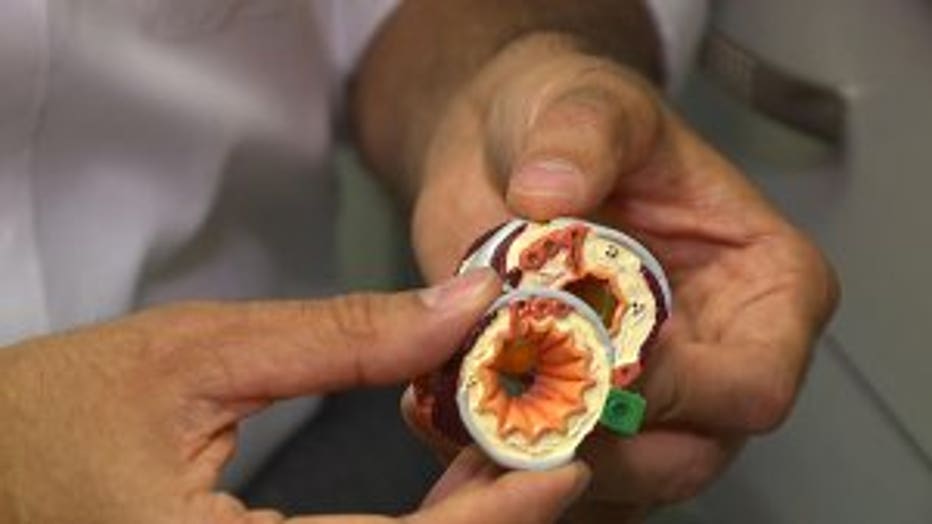 "And then you have the inflammation in the airway and mucus production," says Dr. David Naimi, an allergy and asthma specialist in Seattle who showed off a model of what an irritated throat looks like to Q13 News earlier this month when summer air quality around Puget Sound dropped to historically bad levels. He says extended exposure to the small particulate matter that is back in our air can lead to health issues if symptoms persist.

"It's more when you're inhaling this particulate matter," says Naimi. "It could go through your nose or your eyes or throat or in your lungs. What can happen is an inflammatory and irritant reaction in those areas where it comes in contact with."

Naimi says if people are having increased shortness of breath, extended periods of coughing or wheezing, or significant throat and eye irritation-- that's when one should contact your health care provider or head to urgent care.

The forecast calls for some marine pushes of cleaner air off the Pacific Ocean for the next two days, but by the weekend Q13 Chief Meteorologist Walter Kelley says some 90s are back for many areas around Puget Sound and the wind patterns will shift more wildfire smoke over much of Western Washington as well.