Heartbreaking: At least 51 dead, including 20 children


[trib_ndn vid=24833178 site_section=dash]

MOORE, Okla. (CNN) -- Rescue workers raced against time and the oncoming night Monday looking for survivors after a powerful tornado devastated an area outside of Oklahoma City, leveling homes and killing at least 51 people, including 20 children.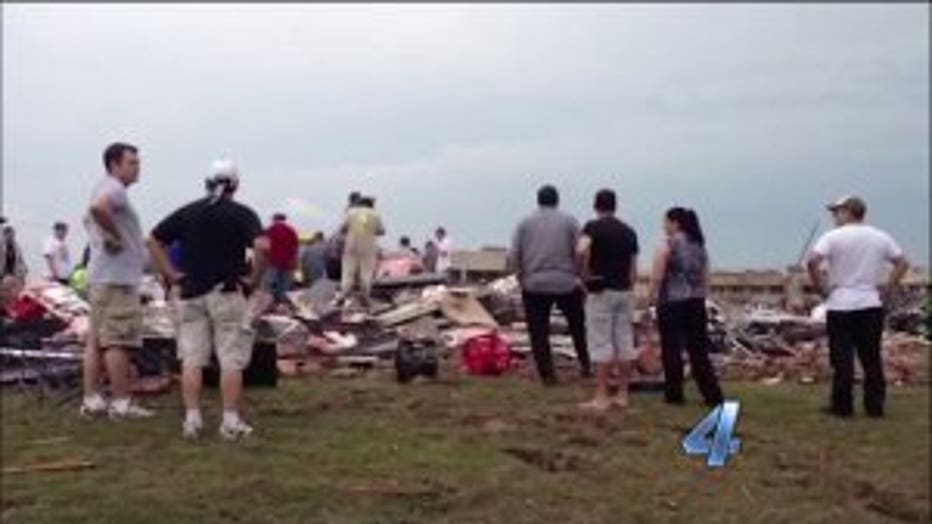 The Oklahoma Medical Examiner's Office has been told to expect about 40 additional bodies, according the office's Amy Elliott. The official death toll of 51 will not rise until the bodies are processed.

According to KFOR-TV in Oklahoma City, the Oklahoma Medical Examiner's Office confirmed at least 233 people have been injured. That number is expected to rise.

Among those killed were a family of four with a baby near 4th Street and Telephone Road in Moore. Officials said the family tried to take shelter in a freezer.

At least 20 of the dead were children, including at least seven from Plaza Towers Elementary School in Moore, which lay directly in the path of the monster storm's wall of wind.

Seventy-five students and staff members had been huddled at the school when the storm hit, CNN affiliate KFOR reported.

As nightfall approached, determined searchers in hard hats dug in the debris for students possibly still trapped.

A father of a third-grader still missing sat quietly on a stool, tears falling from his eyes as he waited for news of his son.

A temporary flight restriction was put in place over the school so that aircraft would stay away and emergency officials on the ground might hear any cries for help, said Lynn Lunsford with the Federal Aviation Administration.

After the ear-shattering howl of the killer storm subsided, survivors along the miles of destruction emerged from shelters to see an apocalyptic vision -- the remnants of cars twisted and piled on each other to make what had been a parking lot look like a junk yard. Bright orange flames flew from a structure that was blazing even as rain continued to fall.

"Our worst fears are becoming realized this afternoon," Bill Bunting, with the National Oceanic and Atmospheric Administration's Storm Prediction Center, told CNN.

The preliminary rating of damage created by the tornado is at least EF4 (winds 166 to 200 mph) -- the second-most severe classification on a scale of zero to five -- the National Weather Service said.

The tornado was estimated to be at least two miles wide at one point as it moved through Moore, KFOR-TV reported.

Lando Hite, shirtless and spattered in mud, told the station about the storm hitting the Orr Family Farm in Moore, which had about 80 horses.

"It was just like the movie 'Twister,'" he said, standing amid the debris. "There were horses and stuff flying around everywhere."

The tornado damaged several barns and he was worried many of the animals were killed.

Hite said he did not hear any warnings or sirens.

"It was real windy and everything stopped. Being from Oklahoma, I knew that was not right."

Twenty patients, including 12 adults and eight children, were in trauma rooms at Oklahoma University (OU) Medical Center and at the Children's Hospital at OU Medical Center, said spokesman Scott Coppenbarger.

Injuries ranged from minor to critical.

Moore Medical Center in Oklahoma was evacuated after it sustained damage, a hospital spokeswoman said.

Norman Regional Hospital and the Healthplex were treating an unspecified number of people with "signs of trauma, lacerations and broken bones," spokeswoman Melissa Herron said.

Interstate 35 in Moore was closed as a result of debris from the tornado, Oklahoma Department of Transportation spokesman Cole Hackett said. Crews were heading to the north-south highway to start the cleanup process.

"People are trapped. You are going to see the devastation for days to come," said Betsy Randolph, spokeswoman for Oklahoma Highway Patrol. She did not say how many people were trapped.

More than 38,000 electricity customers in Oklahoma are without power, according to local power providers.