Heart of a dancer: A mother's message about organ donation


It's a question you've been asked before and you had to choose, yes or no.  If you're like most people, you probably didn't give it much thought.  Dawn McCutcheon hopes after you hear her story, you will.

"I am Hayley's mom.  Hayley was my daughter and my best friend," says Dawn.

There is no measure of a mother's grief.  Dawn said goodbye to Hayley last July after a post-surgery complication led to a stroke.

"I saw her at midnight and watched her die.  I looked into her eyes and I knew she was gone," says Dawn.

Hayley was 19-years-old when she passed away.  From the time she was a little girl, Hayley was a dancer.  She began dancing at 3-years-old and it became her passion.

Dawn says, "I could watch her dance for hours.  It never got old."

Now in her heartache, Dawn turns to the special moments she and Hayley shared.  On the wall at the family's home are a set of family rules.  They read, be kind, be funny.  Dawn says after Hayley went to college, she ended every call together with a "be".  She says it became their thing.

Dawn is reminded to "be" all those things with Hayley gone.  On her wrist, she wears a bracelet bearing that same message.

"We made bracelets.  We have 'Be like Hayley, Be kind, Be funny, Be real.' So the campaign has two goals. The first is to remind people of the Bs.  The second is to create awareness about organ donation," says Dawn.

In death, Hayley gave life.  Her kidneys, liver, retinas and tissue went to people on the transplant waiting list.  So did her heart.

"The one that really means the most is the heart because we had to persevere that week to make the decision to try to make her stronger so she could donate her heart," says Dawn.

Just weeks after saying goodbye to her daughter, Dawn sat down and wrote a letter to the person who received Hayley's heart.  She wrote, "I am Hayley's mom.  My daughter's heart continues to beat thanks to you.  Because of you, I did not have to watch her heart stop beating.  Because of you, I could say goodbye, lay my head on her chest and hear her heart beat strong and give that heart my blessing to beat for another.  My pain is not softened, but there is a tickle in my brain that is my grieving.  That tickle is hope."

For Dawn, hope is that one day she will meet the recipient of Hayley's heart.

It's been almost a year since Joyce Baker's lung transplant.  On her chest, she wears a picture of her donor.  A young man named Antonio who passed away three days after his 21st birthday.

"He's like part of me.  I think about him every second.  I'm very spiritual, every time I pray I think about him, every time I breathe, I think about him.  I picture him in my mind," says Joyce.

After years of struggling for air, Joyce is now able to breathe.  Recently she visited Antonio's gravesite to say thank you.

"Being a young man and thinking about others.  It meant a lot to me," says Joyce.

Like Joyce, Elena was given the gift of life.  Last summer, after seven months on the transplant waiting list, Elena, a mother of three, got the call.  Doctors had found her a heart.

"I had end-stage cardiovascular disease.  I was declining steadily," says Elena.

Nearly a year later, Elena is ready to meet the mother of her donor.

Q13 News followed Elena up to the door as she knocked.  When it opened, it was Dawn, Hayley's mom.  As the two mothers hugged, our microphones picked up the sound of Hayley's heart beating between them.  Moments later, Dawn was able to listen to her daughter's heart beat for herself.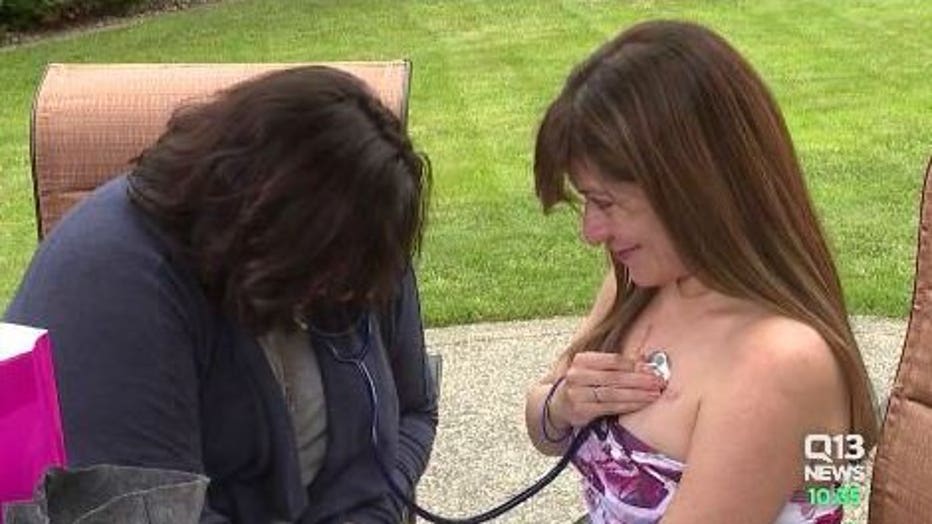 "I was so glad to get your letter," says Elena. "I wanted to know all about Hayley.  What she was like, what kind of things she did.  What kind of jokes she told.  The kind of person she was.  I can tell by Dawn who Hayley would have been."

Meeting Elena doesn't bring Hayley back, but you can't help wondering if somewhere, Hayley is looking down with a smile. Her heart found its match. Just like Hayley, Elena is a dancer.

"Hayley's heart is going to be dancing, which was her favorite thing in the world. It's uplifting," says Dawn.

Two mothers brought together by grief, bonded in love.  Who now share a mission that when given the choice, we all choose to "be" like Hayley.

"Her kids get to keep their mom because of Hayley.  What could be sad about that?  Nothing sad about that at all," says Dawn.

Elena replies, "Thank you for my heart."

Now back to that question.  Are you willing to be an organ donor?  Right now, there are 115,000 people on the transplant wait list.  2,000 of them live in the Northwest.

Kevin O'Conner is the president of LifeCenter Northwest.  The nonprofit organization works with more than 200 hospitals in the Northwest, connecting donor families with people on the transplant wait list.

"More people becoming donors could eliminate the deaths on the waiting list.  For every one organ donor, about three patients receive a transplant," says O'Conner.

Dawn's mission is to keep Hayley's legacy alive, bringing awareness to the gift of life through organ donation.  She has created a website Be Like Hayley where people can learn more about Hayley, and how to register to become an organ donor.

Dawn is also writing about her grief and life.  You can follow her blog at Hayley's mom: Just one mom's tragic loss