Health care exchange announces 'fix' for those interrupted in application process
OLYMPIA -- The state's health care exchange announced Wednesday a process for those who started to apply for health insurance online but who will be unable, due to computer system problems, to complete applications by the Dec. 23 cutoff date to still enroll for coverage effective Jan. 1.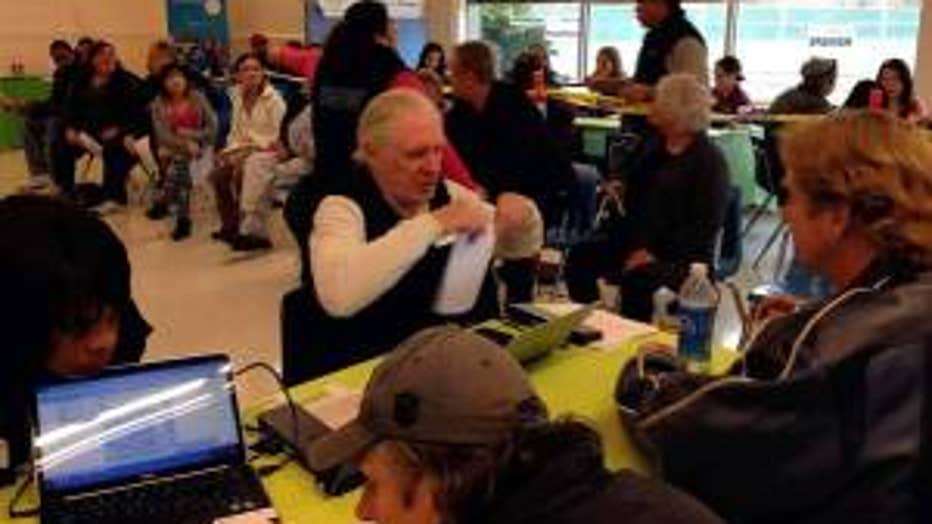 People seeking health insurance compare plans at a Washington Healthplanfinder enrollment event in Kent, Wash. (Maria L. La Ganga / Los Angeles Times / November 9, 2013)


"Many of our customers experienced problems with our system that may have prevented them from meeting the Dec. 23 deadline," said Richard Onizuka, CEO for Washington Healthplanfinder. "We understand the frustration this has caused and realize that we must honor the promise we made to thousands of people in our state that Washington Healthplanfinder will empower them in finding and enrolling in health coverage."

The exchange will systematically modify the eligibility and enrollment date of applications affected by errors to support coverage beginning Jan. 1.  These complete applications submitted by 11:59 p.m. on Monday, Dec. 23, will have their insurance benefits retroactively configured to the start of the year.

The solution will be for those individuals who started an application in the system prior to the Dec. 23 deadline and are determined eligible, select a health plan and pay for coverage by Jan. 15. The exchange will follow up with these individuals with guidance in order for them to secure coverage effective Jan. 1.

The exchange offers these tips for customers seeking coverage beginning Jan. 1:

-- Don't Wait until Dec. 23: Make sure you allow enough time to begin your application process online in order to select and pay for an appropriate health plan. Remember, you may also enroll through March 31, 2014, if you don't need coverage starting Jan. 1. Current Medicaid subscribers who have been notified that their annual review is due must also visit Washington Healthplanfinder and verify their eligibility before the end of 2013 to continue their coverage after Jan. 1.

-- Find an Insurance Agent or Broker: The toll-free Customer Support Center at 1-855-WAFINDER has doubled staff since mid-September, but is still experiencing high call volumes. In-person help is also available. Click on the "Customer Support" link in the upper right-hand corner of wahealthplanfinder.org and select "Find a Broker" or "Find a Navigator" from the drop-down menu.

-- Enroll Online: Complete an application online at wahealthplanfinder.org for a faster eligibility determination. If you've encountered an issue when completing an application online, do not complete a paper application. Instead, revisit your account periodically as staff continue to make nightly corrections and updates to address any errors.

-- Attend an Enrollment Event: Community groups and partners are organizing outreach and awareness events across the state. To find an event in your area, go to: http://www.wahbexchange.org/get-involved/community-events/

-- Use Helpful Tips: For answers to frequently asked questions and tips to address hurdles you may face in completing an application, Washington Healthplanfinder has created an "Application Tips" webpage: http://www.wahbexchange.org/news-resources/healthplanfinder-status-updates/healthplanfinder-quick-tips/ .

As of Dec. 12, more than 32,000 Washingtonians had already completed their health insurance enrollment through Washington Healthplanfinder in a private health plan, the exchange said.

In addition, 61,000 individuals are eligible for private health plans but must submit their first payment due by Dec. 23 for coverage to begin on Jan. 1.