Haze from wildfires surrounding Western Washington brings declining air quality


SEATTLE — The lingering effects of those wildfires hundreds of miles away in Oregon and California means Western Washington's air quality here at home is steadily getting worse.

It's supposed to really sweep in from the south on Thursday.

"A significant intrusion of smoke from wildfires in Oregon and California is expected to drift into the area tomorrow morning through the afternoon hours," the National Weather Service in Seattle said Wednesday night in a twitter statement with the GIF below. "Most of the smoke will remain aloft, but take precautions if you are sensitive to air pollution!"




"The weather recently is quite nice," said Seattle resident Lin Tang.

Summer temperatures we've waited all year for are finally here.  But it comes with a catch.

"Normally it would be nice on a clear day to see Mount Rainier, but today it's hard to see," said Tang.

Seattle's skyline, Space Needle, and sun don't look as crystal-clear as they could.  Our air quality is on the decline.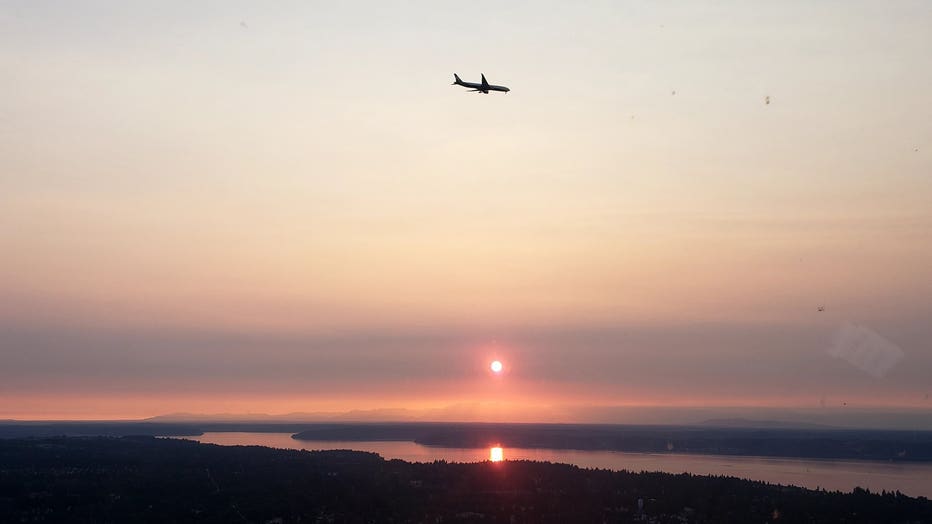 "We're kind of at the end of good shifting into moderate," said Puget Sound Clean Air Agency Air Quality Scientist Phil Swartzendruber.

Haze from wildfires surrounding our region are to blame.

"Asthma or cardiovascular disease, those folks need to think about what precautions they need to be taking if things get worse," said Swartzendruber.

It's not time to break out the face masks right now, but it is cause for concern if you already have respiratory problems.

"These little fine particles, they can cause heart attacks and strokes," said Swartzendruber.

We've all seen the images from China were everyone in the streets are wearing face masks because of the poor air quality there.  Even though our levels aren't as bad, wartzendruber says we should take note.  He says research shows when people aren't used to poor air quality, the slightest decline can make a greater impact.

"Because we're at generally lower levels, when we get a little bump it's actually a little worse than if we were getting it every single day," said Swartzendruber.

A map of the area shows Seattle is surrounded in a ring of fire with the wind carrying the smoke straight to us.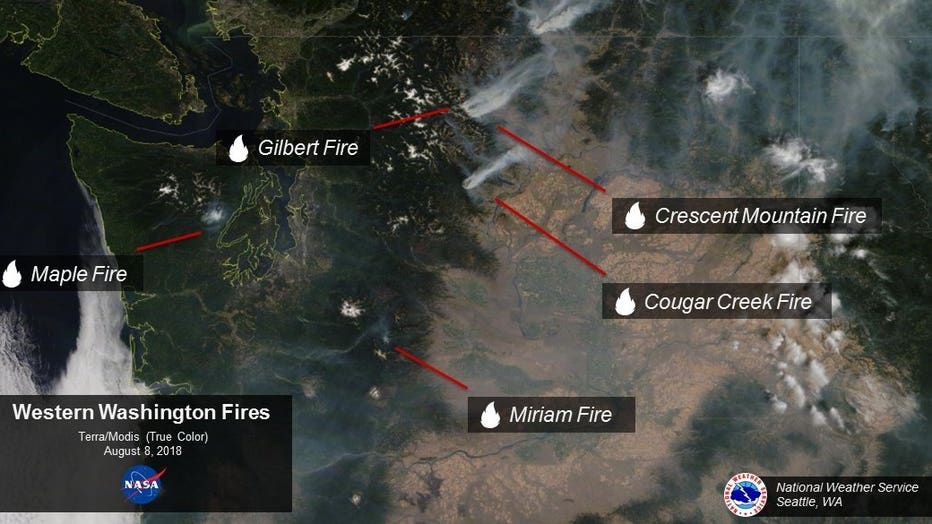 (Photo: National Weather Service-Seattle)


"Right now, we're getting it from the south, we're getting it from Oregon and California. Those plumes are actually making it all the way up here and hazing up our sky," said Swartzendruber.

Even small bonfires and backyard fires can intensify the effects.

"A little fire, a backyard fire, can actually make things really worse for a lot of people around you," said Swartzendruber.

But overall, while our air quality right now is a bit of an eye sore, it is not a major concern for healthy people.

Swartzendruber says our air quality levels are actually worse during the winter months where there is more residential wood burning.

Click here if you wish to monitor air quality in the state.