Hawks hold last home practice; Carroll says Harvin 100%, team 'ready to go'


[trib_ndn vid=25556063]

RENTON, Wash. -- The Seattle Seahawks conducted their last home practice  Friday and coach Pete Carroll said he's installed the game plan against the Denver Broncos for the Super Bowl and declared, "We're ready to go."

"It's been a really good week," Carroll told reporters after the practice. "The practices were fast and strong, just the way we like. We're ready to go."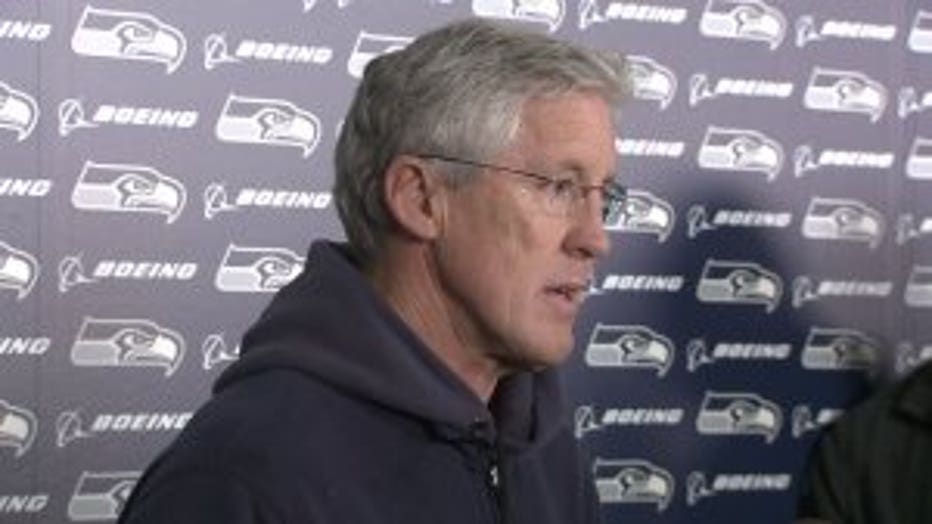 The players have the day off Saturday and then fly out Sunday morning for Super Bowl week in the New York/New Jersey area.

Carroll said wide receiver "did great" in practice. "He looked full speed, 100 percent the whole time," Carroll said of his speedy receiver who had received a concussion in the divisional game against the New Orleans Saints. "He looks ready to go. He's playing (in the game) and doing everything we want him to do, yeah, every aspect."

Carroll was asked how he would try to attack an experienced quarterback in Peyton Manning.

"We have to be able to do everything," he replied. "We have to be able to pressure and have to be able to play zone and man. Hopefully, give him some new looks that he can't prepare for.  We have to find a way to get him out of his  normal rhythm.  So it's a big challenge....

The tremendous expertise that he has … so they're very, very quick with the football.  They protect really well … so he can take full advantage of what he's seeing. They're so efficient. Hopefully, get a rush on him that he can't see coming and try to change his rhythm.  Because of he's in rhythm, he's almost impossible to stop."

Carroll was asked how close the Seahawks came to signing Manning after he was released by the Indianapolis Colts.  He said the Manning had phoned them.

"Which was good. And from there, it went downhill," he said to laughs. "I did not do a very good job on the phone."

Carroll also said he was more than happy with quarterback Russell Wilson.

The longtime coach also said he's never been to Super Bowl before in his life.

"I really had the thought a long time ago, I'm not going until I play in it," he said.

Seahawks owner Paul Allen urged fans to line the streets to send the Seahawks off on Sunday morning as they are bused to the airport. Allen provided the following map, time and instructions: