Hawks fan who caught Kearse's game-winning ball gives it back -- and gets signed jersey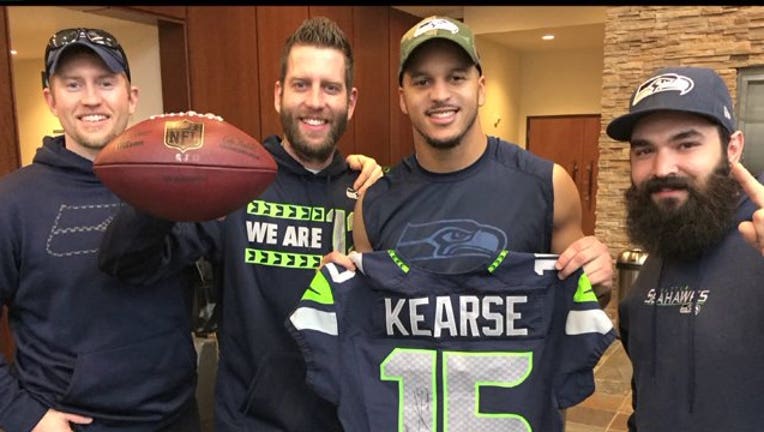 article
SEATTLE -- The Seahawks fan who caught the ball Jermaine Kearse threw into the stands after his winning touchdown in Sunday's NFC Championship game gave the football back to the wide receiver Friday.

In the photo, you can see fan Scott Shelton holding the ball next to Kearse.

Shelton said Kearse gave him his NFC Championship game jersey he wore during the game, but denied a report that he was also given Super Bowl tickets.

The ball's return wasn't an easy decision for Shelton, obviously, as it took him several days to make it official. He said he had been offered $20,000 for the football, but that he made the right decision to give it back.

Meanwhile, the NFL on Friday reportedly fined Kearse $5,512 for throwing the football from his winning touchdown into the  CenturyLink Field stands.

FOX Sports 1's Mike Garafolo, who reported the fine, said it's a crowd-control issue, as the NFL doesn't want fans tearing at each other to get at the ball.




TEXT BELOW FROM EARLIER Q13 FOX NEWS STORY:

When WR Jermaine Kearse caught the touchdown pass in overtime that won Sunday's NFC Championship game for the Seahawks, he joyfully tossed the football into the stands full of fans. Scott Shelton was the one who caught it.

Now Kearse would like the football back. But Shelton isn't so sure about he will return it.

Shelton said Kearse called him twice Monday asking for the ball back. He says they talked football and he told Kearse he doesn't want to sell the ball to anyone ... but if he were to give it way, he'd give it back to Kearse.

Shelton says that's a decision he's going to have to sleep on.




He recounted what happened after Kearse caught a 35-yard TD pass from Russell Wilson in Sunday's overtime game.

"...Kearse turns around and just lobs the ball up in the stadium and it bumped right into chest, just like a gift. It's amazing. We won, we're going to the Super Bowl and I got the ball. It's still like a dream."

Shelton said he was offered $20,000 from one person for the ball, but said he's not going to sell it.

He said if he keeps it, he will put the ball in a case and give it to his his kids someday.

This is what Kearse had to say Monday about throwing the ball into the stands"