Hawks defense stumbles in 28-24 loss to Lions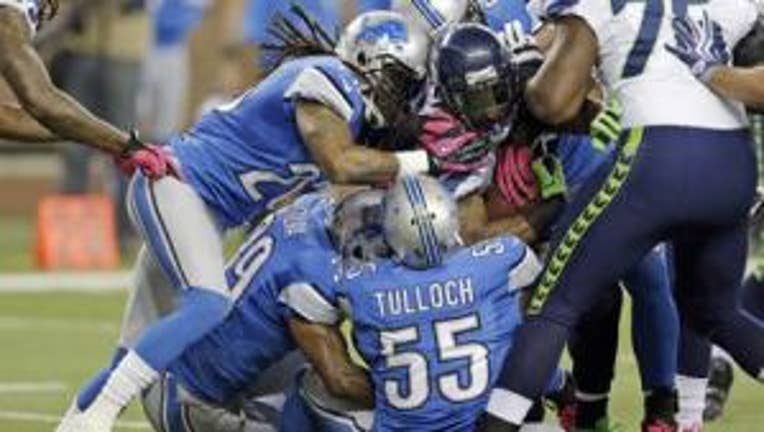 In a volatile game with plenty of back-and-forth, the Seattle Seahawks failed to hold on to a late 4th quarter lead and fell to the Detroit Lions, 28-24.

The Hawks, buoyed by a 77-yard from running back Marshawn Lynch, looked to cruise to victory early on in Detroit, leading 17-7 with 11:43 to go in the 2nd quarter. But Lions quarterback Matthew Stafford carried the team on the strength of his arm, going 34-for-49 with 352 yards and three touchdowns. In the team's worst defensive performance of the season, the Hawks gave up 415 yards of total offense to the Lions, who went 12-16 on 3rd down conversions.

The Seahawks struck first in the game, capping a 13-play, 72-yard drive with a 23-yard field goal from Steven Hauschka. But the Lions and Stafford quickly answered back with the first touchdown pass of the day for a 6-yard completion to Ryan Broyles.

At halftime the Hawks lead 17-14. Yet Stafford couldn't be stopped on his way to his ninth 4th quarter comeback win of his career. The final touchdown came on a 1-yard pass to wide receiver Titus Young with 20 seconds left in the game.

Road woes continued for the Hawks, and the team fell to 1-4 on the season while on the road. Rookie quarterback Russell Wilson put up strong numbers, going 25-for-35 with 217 yards and two touchdowns. The Hawks even lead late, with 5:27 left in the 4th quarter when Wilson connected to tight end Zach Miller for a 16-yard touchdown pass.

Marshawn Lynch managed another 100-plus yard rushing game, and carried the ball 12 times for 105 yards.

The Hawks (4-4) will face off next against the Minnesota Vikings Nov. 6 at CenturyLink Field.