Hawks clinch playoff berth with 42-13 win over 49ers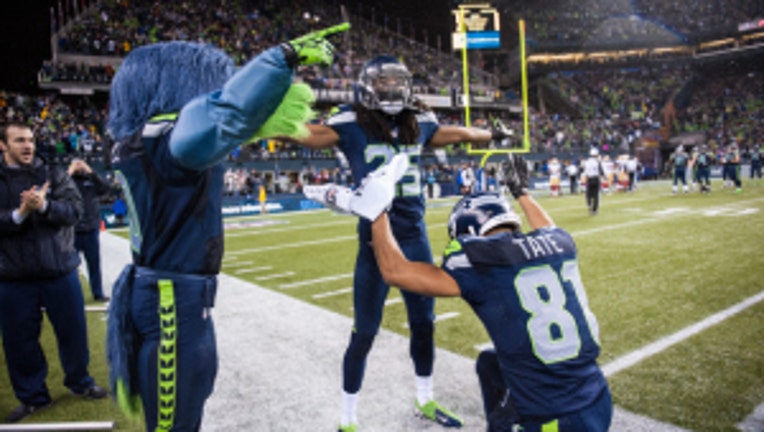 article


SEATTLE -- A case of déjà vu? An immaculate December?

Or just plain kicking butt?

Call it what you want, the Seattle Seahawks continued an amazing month Sunday night with a 42-13 win over the NFC West division rival San Francisco 49ers at CenturyLink Field.

The victory guarantees the Seahawks a berth into the playoffs as at least a wild card team. The Hawks could still win the NFC West if the 49ers lose Dec. 30 against the Arizona Cardinals and the Hawks beat the St. Louis Rams.

The Hawks have outscored their opponents 150-to-30 in the past three games. And just like the whooping the team put on the Cardinals Dec. 9 and the Bills Dec. 16, Sunday's game was a runaway from the outset.

The Seahawks, winners of six of the last seven games, again started with a touchdown on their first possession, with running back Marshawn Lynch running 24-yards to the end zone.

After that, the game quickly got out of hand for the 49ers. The Seahawks went up 21-0 with 14:19 left in the second quarter when cornerback Richard Sherman went 90-yards to the end zone after defensive end Red Bryant blocked a field goal attempt from the 49ers.

The 49ers didn't reach the end zone until a little more than one minute was left in the game. San Francisco's second-year quarterback Colin Kaepernick went 19-for-36 with 244 yards and one interception. The Hawks also held star running back Frank Gore to just 28 yards on six carries, his lowest rushing total of the season.

Seahawks rookie quarterback Russell Wilson ended the game 15-for-21 with 171 yards and four touchdowns. Wilson has now thrown 24 touchdowns this year, more than any other rookie quarterback, including fellow Rookie of the Year contenders, the Colts' Andrew Luck and Redskins' Robert Griffin III. Wilson only trails Peyton Manning with most touchdowns thrown by a rookie quarterback in NFL history.

Lynch added his own brand of spice, rushing for 111-yards with one rushing touchdown and one receiving touchdown.

Wilson, Lynch and the Hawks (10-6) will go after the Rams (7-7-1) Dec. 30 at CenturyLink Field.