Hail, rain, flooding force several road closures across region
LAKE STEVENS -- The relentless rain caused several road closures across the region Tuesday. With more rain in the forecast this week, many fear for flooding and their homes.

First it was rain, then hail, then rain again in Everett and Lake Stevens Tuesday night.

"I've really learned to appreciate it. When it's nice out, you don't get greenery like this without the rain," Woodinville resident Eric Mentele said.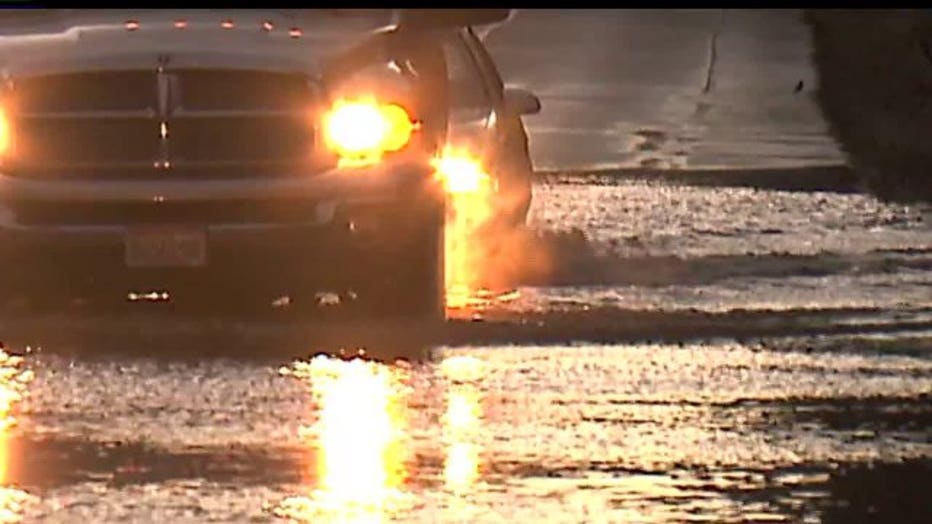 But you also don't get flooding without the rain.

"It floods every year. It's been raised three times since I've lived here," Woodinville resident Mike Hamare said.

Hamare says locals are used to the flooding on NE 165th Street in Woodinville. On Tuesday, there was a sign closing off the roadway and warning drivers of the danger ahead.

"Smaller cars always get stuck. If you go too fast, you will get stuck in the middle; if you go to slow, you will get stuck in the middle," Hamare said.

But Q13 Fox News spotted multiple trucks taking the risk, one after another.

If it wasn't water blocking the streets, it was downed trees. A massive tree across Woodinvile-Duvall Road caused major backups and power outages in the area.

"I came upon it, there were 20 cars in front of me," truck driver Terry Gustafson said.

A detour was the only way out, but Gustafson had no choice but to park his double rig instead.

"You can't back a set of doubles up, you can for 30 yards but 300 yards that's not going to happen," Gustafson said.

Gustafson and his co-workers went nowhere for hours as crews tried to haul the tree away.

As some patiently waited, others are worried about their home.

"I'm dealing with the fear of another flood," Everett resident Sue Aaby said.

North Everett has a combined sewer and stormwater drainage system so when heavy rain comes down, the sewage comes up. The city installed back water valves; it's helped a lot of residents but not Aaby. Her home flooded for the second time in August.

"Sewage came up there, got into the closets, water was all over. Keeping our fingers crossed, literally praying," Aaby said.

Flooded roadways will continue to be a problem this week. The best thing to do is to avoid them because all it takes is 18 inches to float a car.