Gun owners rally in Olympia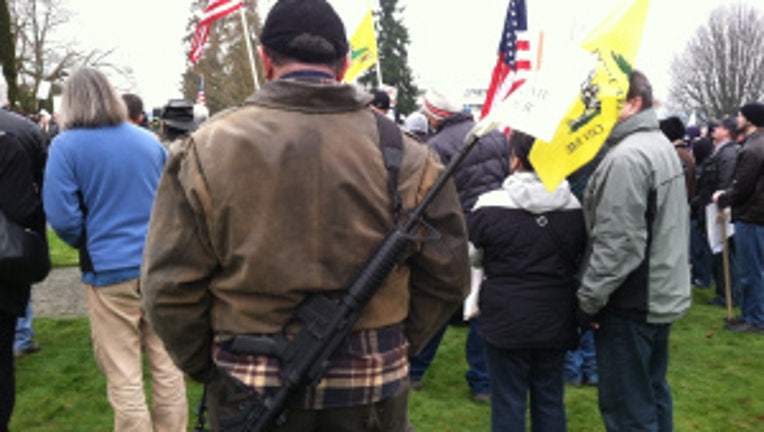 OLYMPIA -- Hundreds of concerned gun owners carrying everything from signs to semi-automatic rifles rallied in Olympia Saturday.

The message was clear:

Don't take away our gun rights.

"We're not about to let our rights just be passed up," Mark Yarger said.

Yarger organized Saturday's rally. It was just one of 47 like it across the country. Recently, President Barack Obama announced his plans for more rigid gun control. Yarger and many others believe those plans take aim at basic rights.



"I don't want my rights taken away to be able to defend the people that I love the most in this world," Yarger said.

Most at the rally agreed with Yarger.

"I love my liberties," Steve Robbins said.  "I love my rights. I'm not gonna see my freedom trampled or yours and I'm willing to stand up for them and I'm here to show my support today."

But a few voices of opposition rang out at the event.  Ralph Fascitelli with Ceasefire Washington supported the president and his recent remarks on gun control.

"If you're trying to kill a lot of people in a limited area in a short amount of time, military assault weapons are the weapons of choice," Fascitelli said.

A possible ban on assault rifles is creating a run on gun. The walls at Wade's Eastside Guns in Bellevue are almost bare, and Chris Schwitters just bought one of the last AR-15s in stock.

"I figured I'd probably take the opportunity to buy them before perhaps I can't buy them anymore," Schwitters said.

He sees both sides. He doesn't like a ban on certain guns but isn't opposed to creating more responsible gun owners.

"You can get a driver's license to drive a car. Why not for something like this?" Schwitters asked.