Gun buyback draws rival offers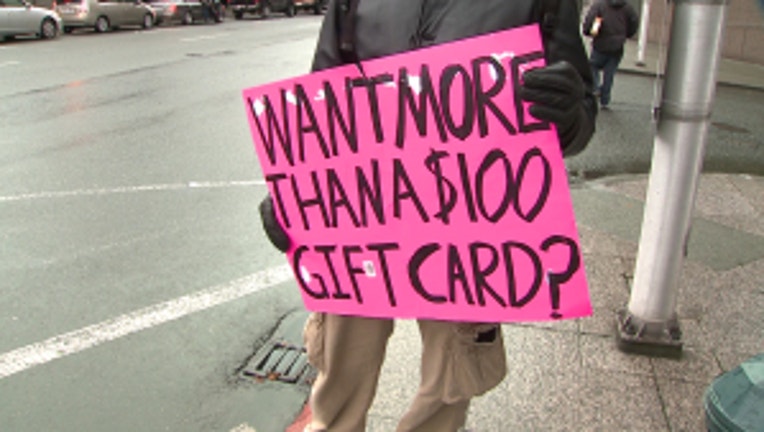 SEATTLE -- When it was all over, there were dozens of guns in garbage cans -- rifles tossed out like refuse.

Seattle police were happy to see the unwanted weapons off the streets at the city's first gun buyback event in 20 years.

"It just shows that people are very concerned about having weapons in their home and they've made the decision to turn them in," Police Chief John Diaz said.

But outside the event existed a circus-like atmosphere -- complete with a gun-crazed gorilla wanting to buy "banana clips," a particular style of magazine known for holding dozens of rounds.

There were also gun enthusiasts hoping to make a great find and score a one-of-a-kind firearm for a cheap price.

"You've got guns that are antiques. A lot of these guns are going to disappear," said a man who only wanted to be identified as Clint. He drove from Graham to offer cash as an alternative to those looking to hand over their guns for gift cards.

Another man, who only wanted to be identified as David, was paying cash for guns just down the street from the event. He doesn't agree with the philosophy behind the buyback initiative.

"The guns they're getting off the street are not on the street," David said. "They're people's antique 22s or hunting rifles. Things that aren't going to be used in crimes anyway."

Chief Diaz said the department wasn't thrilled about the number of private deals going on outside the event.



"I would prefer that they not sell them, but this is a decision each individual has a right to make," said Diaz. "I look at it from the perspective that if we can save one life, if we have weapons people do not want in their house and they're willing to destroy them, I think that is a good thing for us to do."

Despite differing opinions each side still got what they wanted -- guns.