Ground rescue hampered by 'slurry' of massive mudslide, aerial efforts continue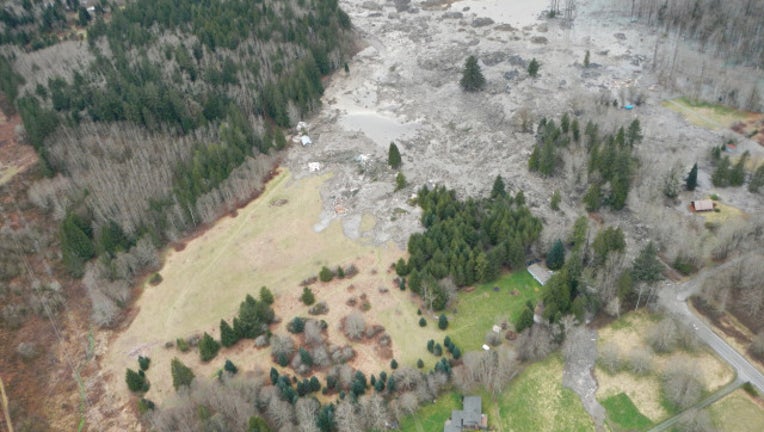 OSO, Wash – A massive search for survivors and those trapped in a deadly mudslide up to 20 feet deep in places resumed Sunday at daybreak in rural Snohomish County.

The slide area is roughly the size of 6 city blocks.

"You need to see it to believe it," said Snohomish County Executive John Lovick. "I've not seen anything like it since Mt. St. Helens on May 18, 1980."

Rescue efforts were suspended after the sun went down Saturday night.  At last count 3 people were confirmed dead and at least 8 people were being treated for serious or critical injuries at area hospitals.

At least 100 rescuers waited on either side of the slide because officials said it was still too dangerous to cross on foot comparing it to quicksand.  Governor Inslee described it as 'slurry.'  Helicopters resumed aerial searching at first light.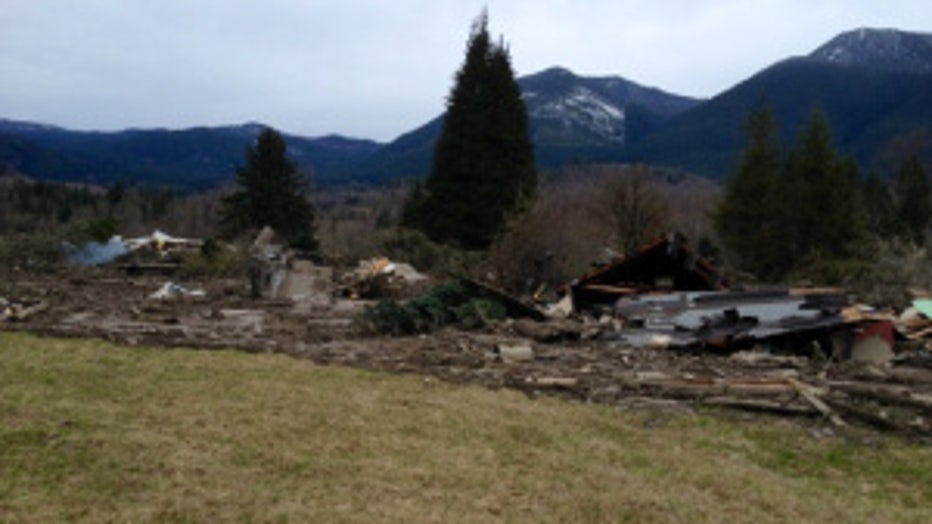 Photo of 530 slide courtesy of Central Pierce Fire and Rescue


At noon Inslee said 7 people had been rescued so far.  During a 9:00 a.m. briefing officials said 18 people were still unaccounted for in the slide zone.  The number of people who were missing remained fluid throughout the day.

Northwest Regional Aviation deployed a total of 6 helicopters and 1 fixed wing aircraft as part of the search Saturday.  NWRA reported hoisting 11 people to safety including two patients in critical condition.

Officials on scene confirmed at least 6 homes were destroyed by the slide, but Governor Jay Inslee's office said between 30 and 60 homes could have been buried.

The Red Cross is asking everyone trying to connect with a loved one to check Safeandwell.com.  A Facebook page allowing loved ones to connect was also set up and had more than 2,000 likes by early morning Sunday.  The county too set up a phone number for reunification or to learn about family in the area: 425.388.508.

Elected leaders have asked anyone wishing to help to consider calling 1-800-REDCROSS and donating money.

The slide blocked parts of SR 530 and the North fork of the Stillaguamish River leading the National Weather Service to issue a flash flood watch for residents living downstream.

Sunday morning officials lifted the evacuation order for those living downstream, but emphasized that was only for daylight hours and that a new order could be issued at any time.  They urged residents who did return to homes in the area to keep their televisions and radios on to hear warnings of the situation warranted it.

While weather officials downplayed the risk of catastrophic flooding, emergency responders said they wanted to be very cautious and called for everyone living within the flood plain downstream between Oso and Stanwood to consider getting the higher ground.

Just before 1:00 p.m. the river began to breach the mud and debris dam blocking its path since Saturday morning.  Snohomish County Sheriff's officials called the breach 'slight' and said it was occurring on the north side of the area.  The hope is that this breach will help gently ease the pressure and the flow of the water behind the debris dam.

Evacuated families spent the night at Post Middle School in Arlington where emergency volunteers were ready with extra clothing, bottled water, food and warm bedding.

Governor Islee proclaimed a state of emergency late Saturday night in the area.

Experts said the slide, roughly the size of 6 city blocks,  is likely the result of the nearby hillside being saturated with rain recently.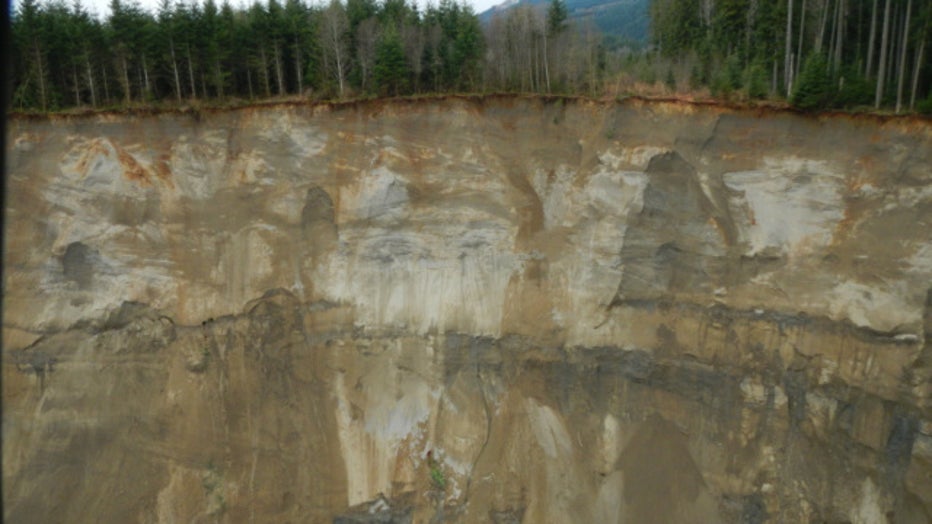 View of the hillside that gave way near SR 530. Photo courtesy of WSDOT


Survivors recounted a sudden roaring noise and then seeing a massive wall of mud racing toward their homes.  One resident told Q13 FOX News she was inside her home when it was swept away. She said after being buried alive, she was able to dig her way out and then had to be airlifted to safety.

Family and friends of those who remain missing have taken to social media asking rescuers, members of the media and others to help them find their loved ones.

There were reports of calls for help being heard in the slide area overnight, but officials have not been able to confirm those reports.

State Route 530 remains closed indefinitely from the Oso Fire Department  on the west side of the slide and from Little French Creek Rd (milepost 42) the on the east side of the slide.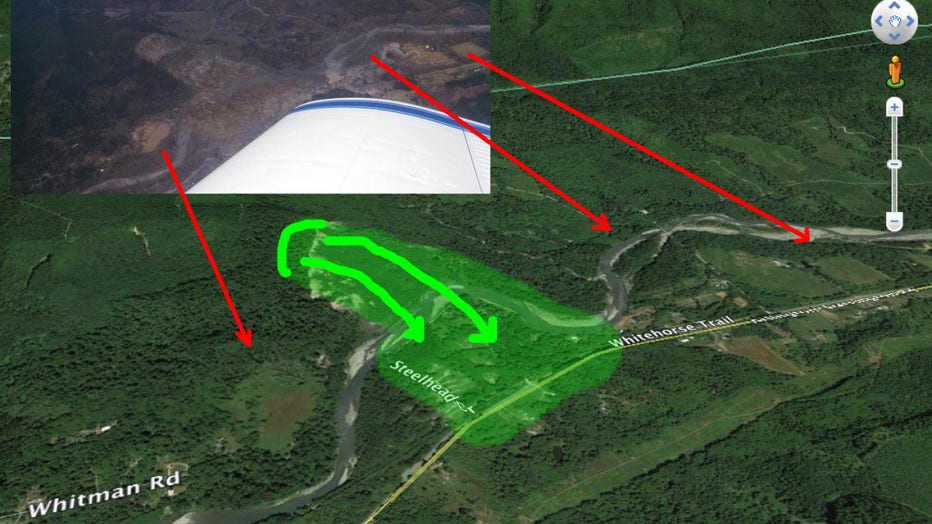 This image created by Liem Bahneman shows the before and after of the slide area and explains the direction of the slide itself.