Greenwood man gunned down while out for a walk


GREENWOOD -- David Peterson was a popular guy.

At 6-foot-2, he was a bear of a man, yet gentle.

He was smart, kind, generous, compassionate and funny.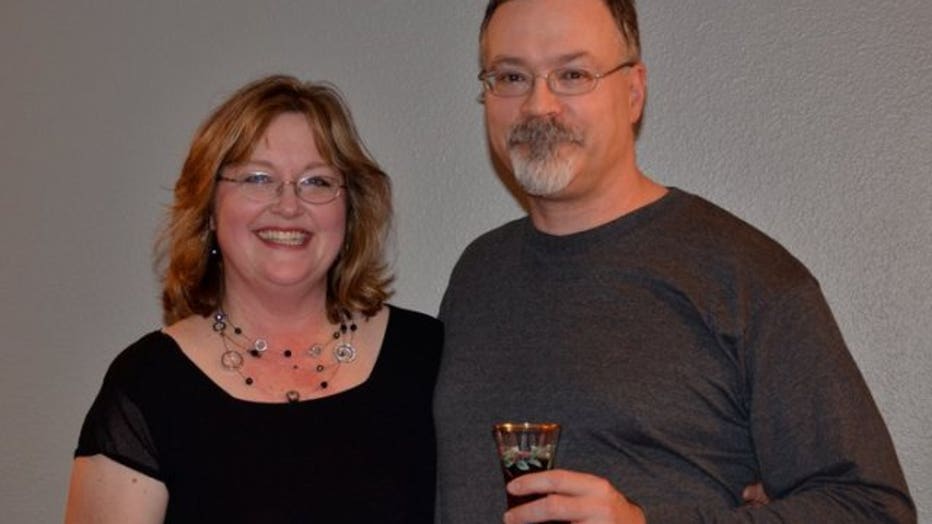 David Peterson and his wife, Kimberly, in 2010. (Photo courtesy of family)


He's a man who will be missed.

Just after 9 p.m. Sunday, Peterson's wife says he was out for his nightly power-walk.

But this time his routine was interrupted.

Witnesses reported seeing Peterson arguing with several people as he walked and talked on his cell phone.

Police say Peterson called 911, saying he was being robbed.

"We heard a sound that I immediately blew off as kind of just a bag hitting the floor. Sometimes they fall off the shelf so it wasn't any big deal," neighbor Scott Sackerson said.

But a few minutes later Sackerson and his co-workers found it was a big deal.

"We had a police officer knock at the back door a few minutes after that so we assumed then when we came out to see the scene that it had been probably a gunshot," Sackerson said.

Witnesses reported seeing three people run from the scene.

Only a vague description was given, unfortunately; a tall, thin black man, 20 to 30 years old, wearing a North Face jacket, one short black man and a white woman.

One of them was believed to be the gunman.

"Police said he's still out there so we were going to our cars, walking to the bus stops and we didn't know so it is disconcerting," Sackerson said.

"It's kind of terrifying.  I had no idea.  I just found out about 30 seconds ago.  I live right up the street. I work right around here.  I walk at night by myself so it's kind of disturbing," neighbor Arianna Lang-coonbs said.

Peterson was married to the love of his life for 22 years.

Kimberly Peterson is a staffer at the King County Prosecuting Attorney's Office.

Spokesman Dan Donohoe released a statement saying;

"The King County Prosecutor`s Office is deeply saddened by the death of David Peterson.  Our hearts and thoughts go out to his wife, Kimberly Peterson, who is a staff member in the King County Prosecutor`s Office."

"I think it's crazy for being in Greenwood and these new storefronts and stuff.  It feels really safe and well lit so it's really surprising that no one knows anything," neighbor Lynn Gallob said.

There is a significant and very visible police presence in the area; officers on foot and in cars.

I spoke to Kimberly Peterson Monday night in her home.

She said the only thing she wants right now is for her husband's killer to be brought to justice.

If you can help police, call 911.