Great today, but it won't last


SEATTLE -- Spring is often a rollercoaster in the Pacific Northwest and the next 7 days will certainly fit that pattern. We're now the wettest February through May on record at SeaTac- and we're only in early May. In the first week of this month so far we've seen 2.14" of rain- which is more than 1.94" that would be normal for the WHOLE month of May. We're going to add more to the rain gauge this week too.

TODAY looks like the nicest day of this week. Some morning clouds, but nice afternoon clearing. High temps mid-60s for Seattle/Puget Sound.

TONIGHT partly cloudy skies again. It looks like a great nice for a soccer match as the Sounders are back at CenturyLink. A light jacket (and of course your scarf) sound like good ideas for attire. Overnight lows in the 40-45 range. Areas with completely clear skies could dip again into the 35-40 range.

THURSDAY starts out dry, but does not end up that way. I think rain will move onto the coast before breakfast is over and inland to the I-5 corridor around lunch. Rain at times all the way through the evening drive. The Mariners are back at home and I think it will a roof-closed game. Highs dropping back towards 60.

THE WEEKEND looks showery and cool. Temps Friday and Saturday will be cooler, about 55-60 with showers at times. Sunday looks pretty nice for Mother's Day. There's a chance of showers in the morning, but it looks dry and mostly cloudy in the afternoon.

NEXT WEEK we bounce back into the 65-70 range with some nice May sunshine.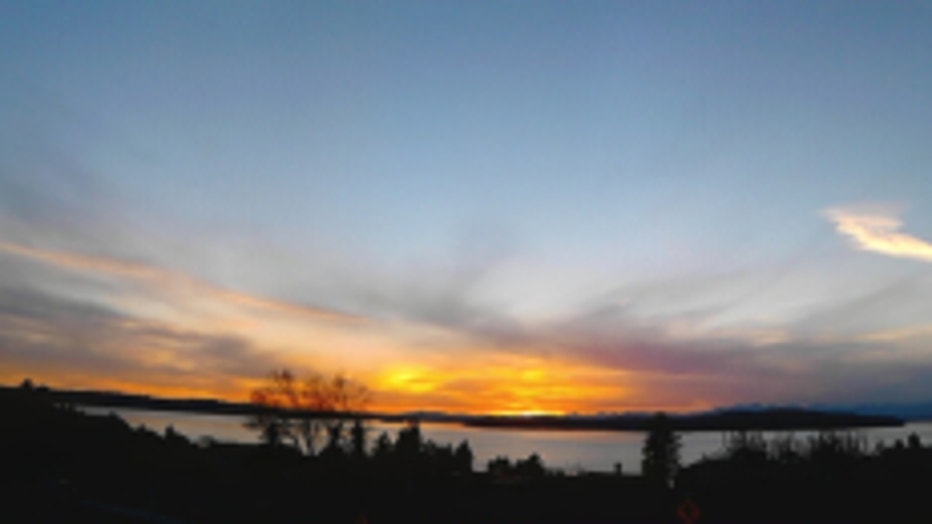 Beautiful panoramic sunset. Viewer photo from Carina in Steilacoom