Gray Tsunami: More seniors filling homeless shelters


EVERETT, Wash. -- "She's just my baby, yeah." That's the way Tammy Flocchini describes her car. It's her "baby" because it is her most prized possession, her temporary home when she became homeless in 2016.

A resident at the Everett Gospel Mission, Flocchini is part of the region's growing homeless population, specifically a segment that is growing: the elderly. In this case, shelter managers say, the group is anyone age 51 and older.

According to the National Alliance to End Homelessness, in 2008 seniors made up 22 percent of the national population. In 2016, that number jumped to 28 percent, and as the Baby Boomer population gets older, those numbers are only expected to grow.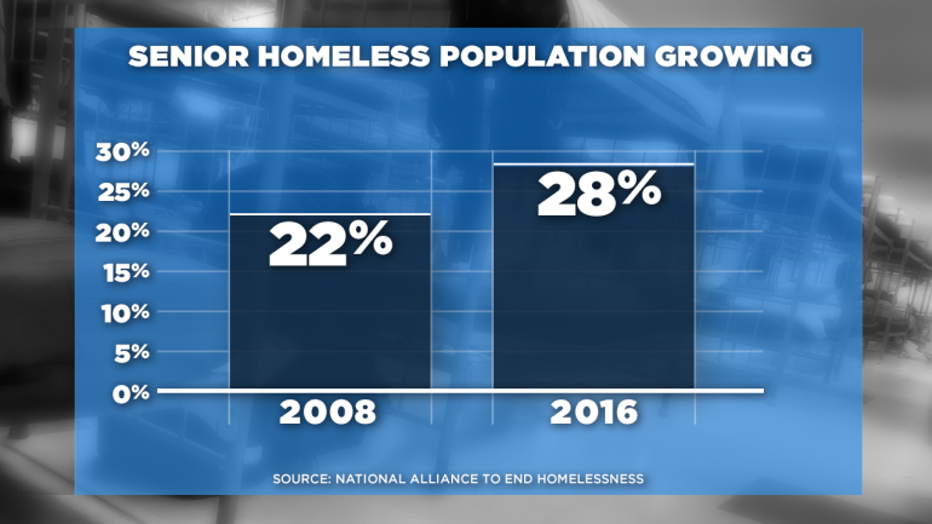 Typically homeless seniors do not fit the overall homeless stereotype. Most are not mentally ill or dealing with addiction. So how did they become homeless?

For Flocchini, it all started in 2013. She and her husband were living in the Tri-Cities. At age 51, she was working at Macy's. The couple was working to pay off their mobile home, just starting to think about retirement but then, doctors diagnosed her husband with cancer. In July 2015, Flocchini's husband passed away.

"There wasn't any time to grieve, one or the other," said Flocchini. "Everything caved in."

To add to the stress, shortly after her husband's death, Flocchini became ill, unable to work. Flocchini is one of the thousands injured by Boston Scientific's vaginal mesh implants.

"They said it would change our lives and they weren't kidding," said Flocchini.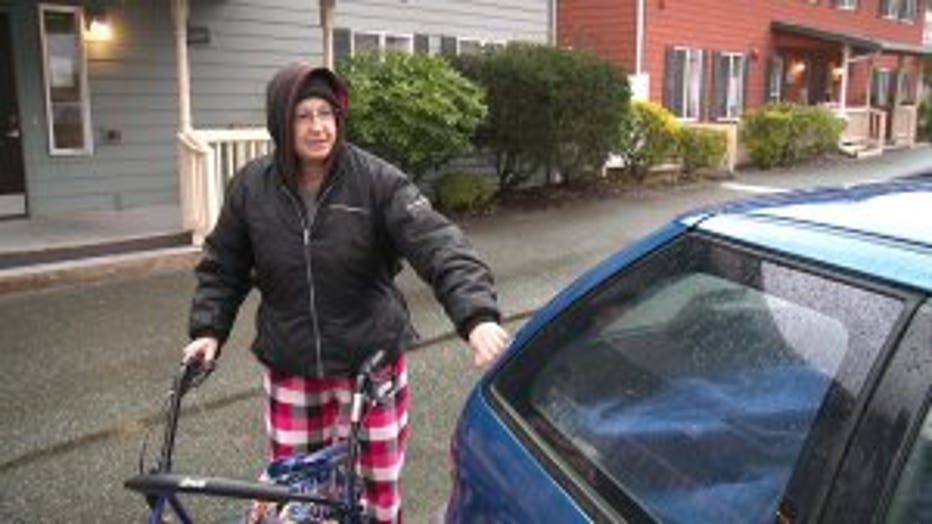 Tammy Flocchini shows her former home, her car.


Incapable of working, there was no money coming. The 54-year-old was still too young to collect her or her husband's Social Security benefit. Her savings quickly drained. She lost her home and most of her belongings. All that remains is a few items in the trunk of her car.

"Losing things that are irreplaceable, priceless things that my husband made, they're memories and little bit by little bit. It's hard," said Flocchini.

In 2016, Flocchini drove to Seattle to be close to her doctors and began living in her car, confused and angry.

"How the hell did I get here? How did I end up here? I've done everything possible not to," said Flocchini.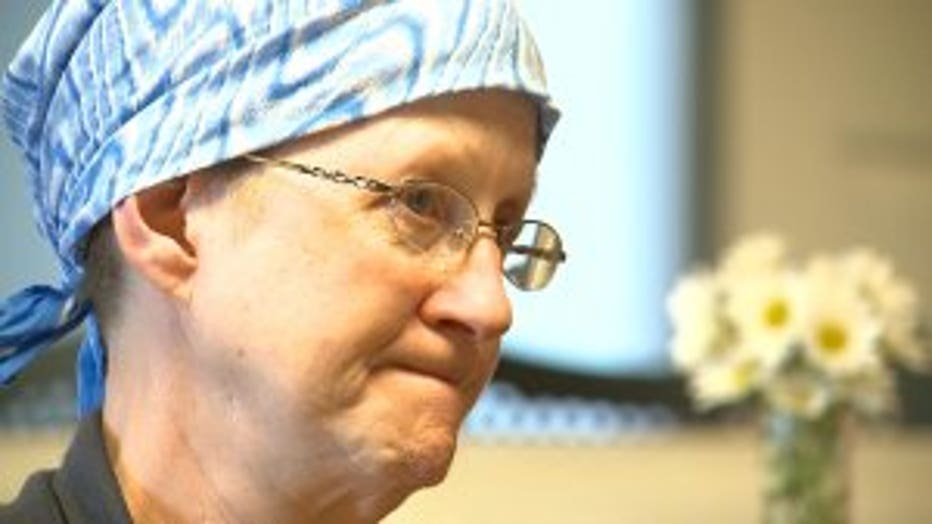 Tammy Flocchini purses her lips as she talks with other residents at the Everett Gospel Mission.


It would prove to be one of the most challenging moments of Flocchini's life. At a time when she hoped to be settling down with her husband, thinking about her grandchildren, her retirement, instead she was homeless and depressed. She admits she considered taking her own life.

"I got to that point because slowly I was having a breakdown and didn't know it," said Flocchini. "What was the point of going on anymore even though I know it's the biggest sin, even though I know what it does when you're left behind."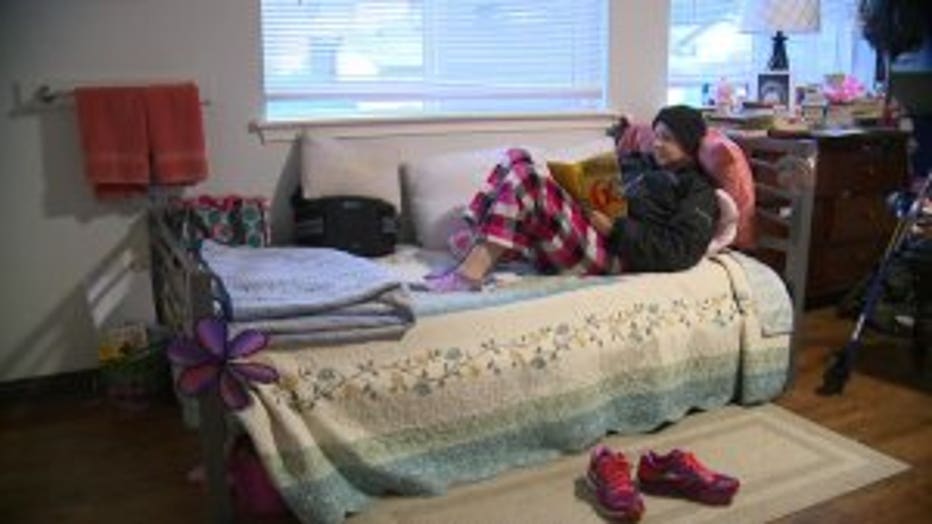 This is Tammy Flocchini's new home, a bed in the Everett Gospel Mission.


But then Flocchini got a call from the Everett Gospel Mission, a bed had opened up, and the spot was hers if she wanted it. She took it.

"Without a home but yet this is my home for now," said Flocchini.

Soon Flocchini found out she wasn't alone. Of the 45 adult women at the shelter, 20 percent are over 55. Sylvia Anderson, CEO of the Everett Gospel Mission, says it's happening everywhere.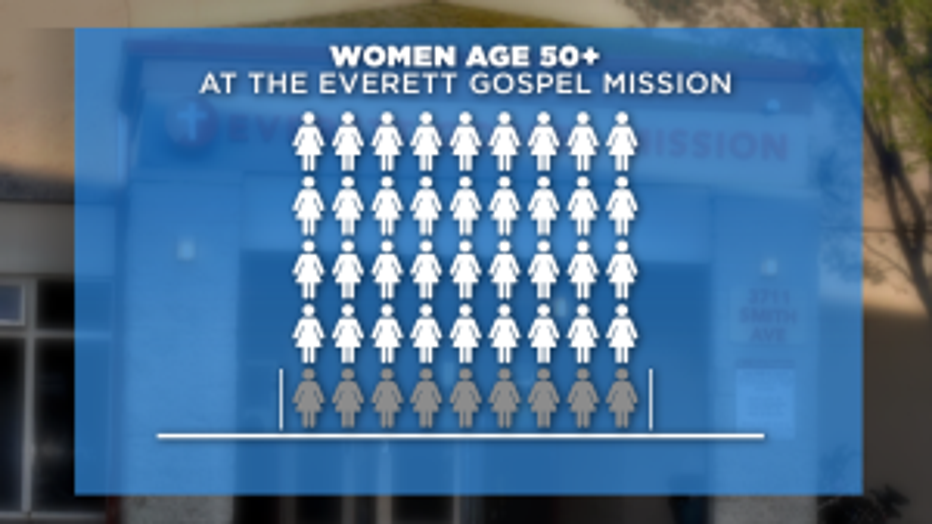 Of the 45 adult women at the Everett Gospel mission, 20 percent are over age 55.


"In the last year I visited about 15 different missions, and I have seen this graying population of folks in shelters all across the nation," said Anderson.

It's part of what is known as the "gray tsunami."

"The stereotype is people that made bad choices, that they're on drugs or alcohol or they have significant mental health (problems), but the other story is simply people who have outlived their money," Anderson said of the elderly homeless population in her shelter.

Many are banking on a significant Social Security payout, but when they get the check, it's a reality check. On average, the women here at the shelter get less than $750 per month.

It's even harder for people between 50 and 61. They're too old to get hired but too young to receive their Social Security benefit. Rose Zahl falls into this category.

"I don't think it's something that we plan for," said Zahl.

She was living in Marysville with her husband and daughter when her husband got cancer and died. She lived off her husband's death benefit and savings for five years. Then in April 2016, her rent jumped up by $300.

"It was more than what I could pay," said Zahl. "We did try to find another place, but we weren't successful in her school district, and she really didn't want to change."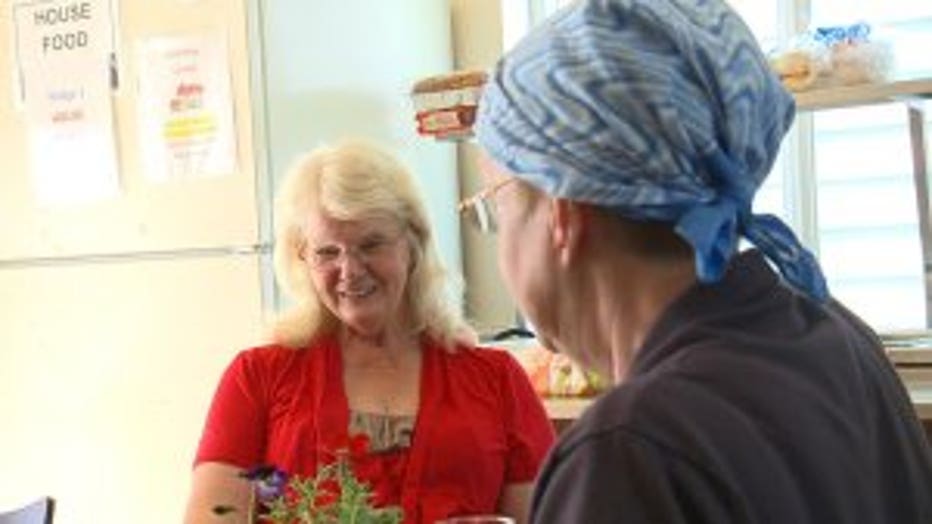 Rose Zahl, on the left, sits with her housemate, Tammy Flocchini.


At that point, Zahl and her youngest daughter moved into her car.

"It's really hard," said Zahl. "Where do you park it? It's really hard."

Zahl has a degree from the University of Washington. She was never homeless before and never imagined this is where she'd be at 61.

"We tried to have things pretty much ready for it, just didn't turn out that way," said Zahl.

Zahl knows she doesn't fit the homeless stereotype. Strangers have told her many times before, to which she gives this reply.

"What does a homeless person look like?" said Zahl. "It's not always somebody who's in rags or under the bridge, so to speak."

Flocchini and Zahl hope their stories show people that homelessness can happen to anyone, no matter a person's age or education level.

"I don't' have one person in this shelter who thought this would happen to them and I don't care what age they are. I don't have one," said Anderson.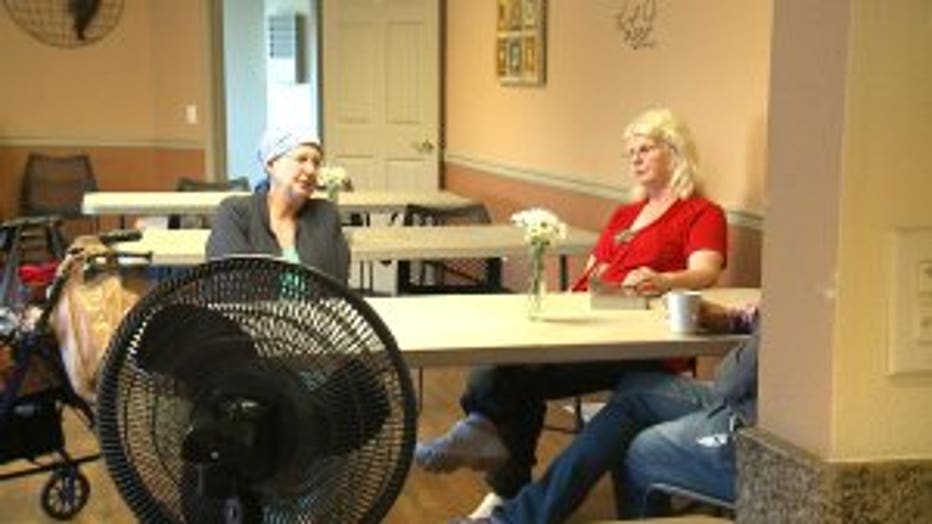 Flocchini, on the left, and Zahl, on the right, sit chatting in an Everett Gospel Mission dining room.


But yet, they all ended up here. So we asked the women, what advice they have to younger versions of themselves. They both said the same thing: Save.

If you don't, Anderson warns that you could find yourself where no one wants to be at 55, aging and homeless.

"You work hard your whole life, and then you retire to poverty," said Anderson.