Graphic video: California police shoot, kill dog during owner's arrest


LOS ANGELES -- A video showing a Hawthorne police officer fatally shooting a dog is drawing outrage on the Internet, and its owner claims he was targeted because of pending claims against the department.


The shooting Sunday occurred after a standoff between police and armed robbery suspects near the intersection of 137th Street and Jefferson Avenue.

Officers handcuffed bystander Leon Rosby, 52, after he walked close to the scene with an 80-pound Rottweiler on a "long leash-line," creating "an increasingly dangerous situation," the Hawthorne Police Department said in statement.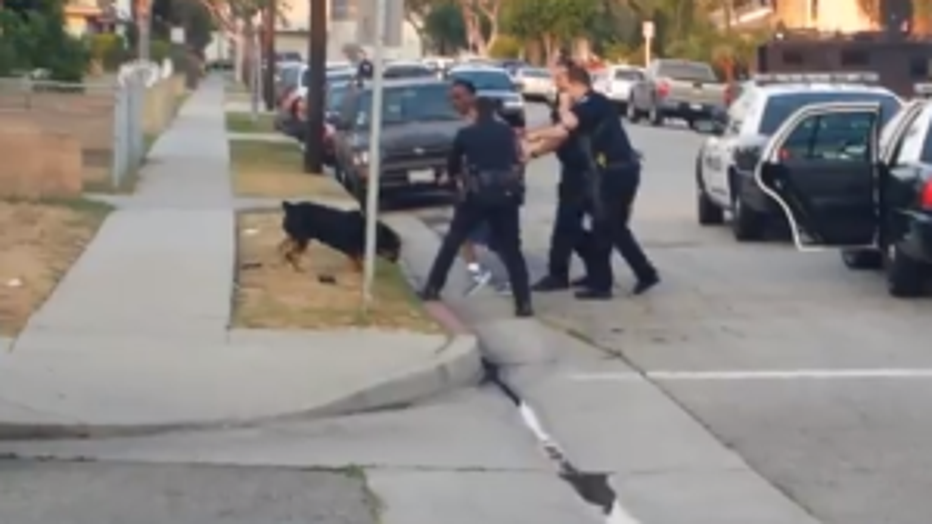 The 2-year-old Rottweiler, named Max, whom Rosby had put in his car before being cuffed, then jumped out of the vehicle. Officers tried to grab the dog's leash and then opened fire, "fearing that the attacking Rottweiler would imminently bite the officer(s)," according to the department statement.

The officers fired four shots, said Michael Gulden, an attorney for Rosby. Video footage shot by a witness and posted on YouTube shows the dog writhing on the pavement as onlookers shriek.

Gulden told The Times that police were retaliating against Rosby for a lawsuit filed in March against the department, alleging excessive use of force and false imprisonment in a July 2012 incident.

According to the lawsuit's complaint, officers beat Rosby at his home and in jail after responding to a domestic quarrel call made by Rosby's wife.

All charges against Rosby, 52, stemming from last year's incident were dropped, Gulden said, calling the argument between the couple that prompted the call a "misunderstanding."

Gulden said one of the officers at Sunday's incident in Hawthorne had been on duty during Rosby's alleged beating last year and recognized him as a "troublemaker."

For more on this LA Times story, click here.