Graham man pleads guilty to killing Nicole White, an Orting mother of two
TACOMA, Wash. -- Jonathan Daniel Harris, 30, of Graham, pleaded guilty Thursday  to murder and assault charges in the 2015 beating death of Nicole White, an Orting mother of two.

The Pierce County Prosecutor's Office said sentencing is expected in September. Harris could receive more than 26 years in prison, the office said.

As part of a plea agreement, Harris pleaded guilty Thursday to second-degree murder, second-degree assault and third-degree assault.  He had originally been charged with first-degree murder.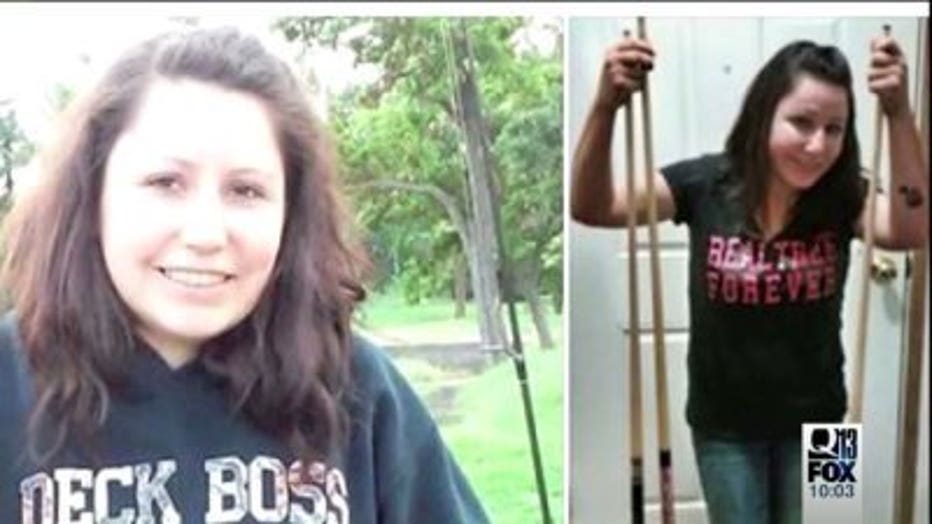 Nicole White, a mother of two, was beaten to death in June 2015.


On June 6, 2015, police said, White picked Harris up from his home and they drove to Jeepers Country Bar and Grill in Spanaway. Several hours later, witnesses saw the two leave the bar together in White's car. She never made it home and was reported missing on June 7.

Over the next two weeks, the Pierce County Sheriff's Department, the FBI and volunteers conducted an extensive search.

On June 20, a K-9 from a volunteer search and rescue team found White's body at the bottom of a wooded ravine south of Lake Kapowsin. Her body was wrapped in a green tarp and was severely decomposed.

Detectives believe that after the two left the bar, they drove back to Harris' house. Police say Harris beat White to death, wrapped her in the tarp, loaded her body in her car, drove to the wooded area and rolled her down a ravine. He ten drove her car off the side of the road near his house and walked home.

The next day, according to cell phone records and data stored on the ignition interlock device in his vehicle, Harris drove his car back to the site where he dumped White's body.

During a search of Harris' home, detectives located the sweatshirt he was wearing at the bar the night White disappeared. DNA from blood on the sweatshirt was a match to White.