Governor's task force on saving orcas meets for first time


LACEY, Wash.--  "We don't have a lot of time," Gov.  Jay Inslee said Tuesday to the first meeting of his task force on saving Southern Resident killer whales.

The group formed earlier this spring met for the first time on Tuesday, though it's been 13 years since the federal government first listed the animals as endangered. The task force is made up of 33 members from a wide range of backgrounds, all having a big stake in saving our resident orcas.

"I think there's a myth that this is an impossible task," Inslee said to the group assembled at a community center in Lacey.

He said Washington's booming economy and population growth might have some thinking saving the resident orcas from extinction isn't something that can be done. He stressed to the task force members that he thinks they can and will find a way to save the marine mammal.  But getting there, for the task force with just one mission of "save our whales," could be challenging.

"Everybody is coming from different angles," said task force member Ken Balcomb, who has run the Center for Whale Research based in Friday Harbor, Wash.,   for decades.

Balcomb said this is good start, but could be a hard finish.

"We've got all the science we need," Balcomb said. "Now we need to make political decisions that are tough."

The Orca Task Force will look at three areas for policy recommendations or improvements: Toxins in the water, food supply for the orca, and noise pollution from boats.

"It really is a complex issue," said task force member Lisa Wilson, a member of the Lummi Nation, a tribe based in the Bellingham area. She's happy that there's finally some attention being paid to these endangered animals. Only 76 Southern Resident killer whales are left in Puget Sound.

"I think it's going to take bite-sized pieces to what the issues are," Wilson said. "It's so complex. It's a lot of different things. It's not the one thing. I don't like the analogy, but it's like what they say about, 'How do you eat an elephant?' And the answer is, one bite at a time."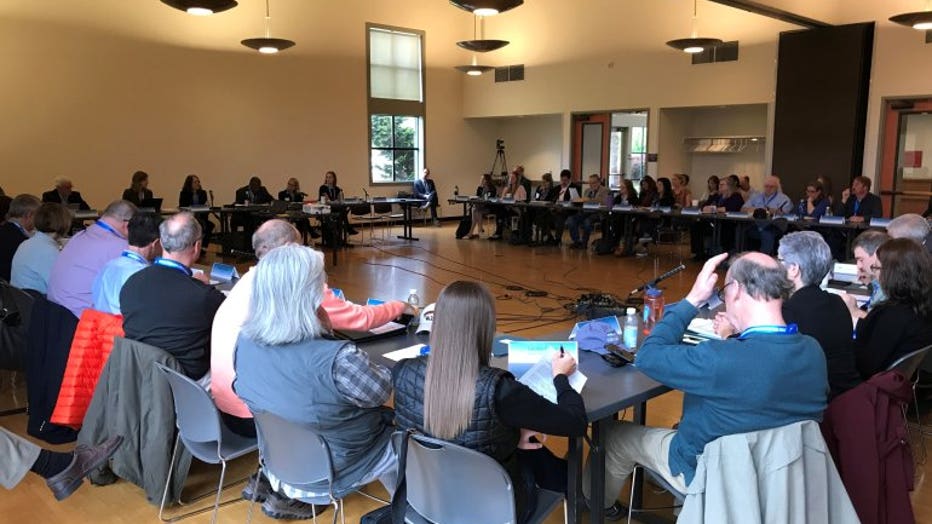 And the compromises these roughly three dozen people can come to quickly -- with the public watching -- could sink or swim these giant mammals that, for many, symbolize the Pacific Northwest itself.

"The survival of the orcas," said Inslee, "depend on all Washingtonians being engaged in this."

The task force is expected to make preliminary recommendations by October 1 and final recommendations a month later.

The timeline is tight because the Legislature reconvenes in January. And many here agree, the orcas themselves are living on borrowed time.