Governor Inslee says Boeing deal could open new industrial plateau
SEATTLE - It was a cliffhanger ending with a contentious vote. Machinist approved the Boeing contract by a 51% vote, a very slim margin.

Some machinists on Friday cried over the concessions they would have to make but overall many in the community, including Governor Inslee, believe the deal means Washington will reap the benefits for years to come.

With the approval of Boeing's new contract, the individual machinist will lose their pension to a 401K retirement plan but the state wins to lead the aerospace industry.

"You cannot overstate the impact this win was for the state, I cannot think of anything that has been as significant for multiple decades to come," Inslee said.

By the end of this year, Boeing will start to build a giant facility to build the 777X meaning billions of dollars in new investment.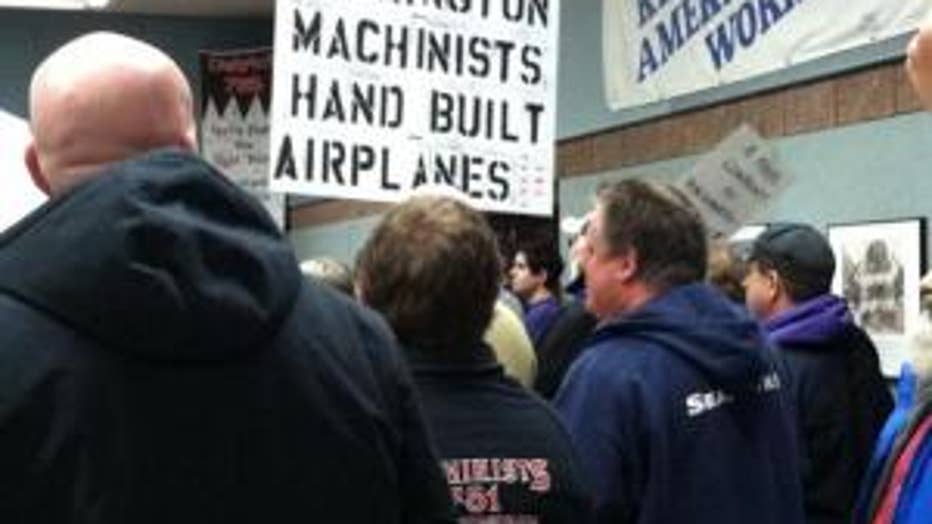 "These jobs are in the thousands and it is not only on the 777X, the first model of the 777X but all the subsequent derivative models as well," Inslee said.

In addition to the 777X, the state will also produce the 737MAX in Renton through 2024. According to the International Machinist association the two programs could bring in 20,000 direct and indirect jobs.

"I want to thank the machinist who voted yes because I saw that as a yes not only in securing their future job security but also the jobs of thousands of others," Kent Mayor Suzette Cooke said.

From Everett to Kent, local businesses that thrive on Boeing's workforce, can breathe a sigh of relief.

"The city alone has 50 suppliers to the Boeing company and the Kent valley has over a 100," Cooke said.

Several local leaders including Cooke pushed for a yes vote on the heels of the legislature's approval of a nearly $9 billion incentive package for Boeing. Inslee says the package comes with a guarantee the 777X and other future aircrafts will be built in the state.

"Also more importantly we had a protection for Washington citizens to make sure Boeing couldn't open a second line up like they did with the 787 in South Carolina. That would be prohibited under this particular incentive package," Inslee said.

Besides the immediate impact the governor says 777X could also open up a whole new industrial plateau.

"This carbon fiber is really the future of aerospace we know it, this gives us carbon fiber skills and infrastructure for a whole host of products for instance today we are making the carbon fiber sub strata that go into an electric car the BMW i3," Inslee said.