Gov. Jay Inslee vows priority 'every single day' will be jobs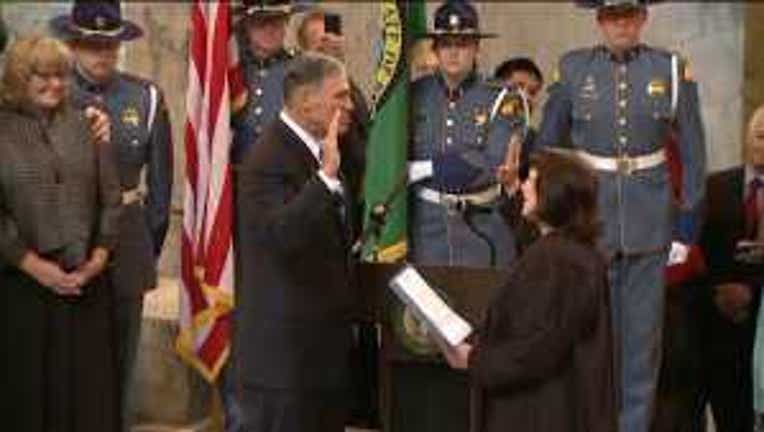 OLYMPIA -- Jay Inslee was sworn in as Washington's governor Wednesday in the state Capitol Rotunda.

And he didn't waste any time laying out his vision for the next four years in front of a joint session of the Legislature.

The governor's message Wednesday echoed the themes he campaigned on: health care, clean energy and, most especially, putting people back to work.

"Make no mistake, our top priority today, tomorrow, and every single day for the next four years is jobs," Inslee said in his inaugural speech.

The governor has two immediate challenges:  plugging a $1 billion hole in the state's budget and coming up with another $1 billion to fund public schools as mandated by the state Supreme Court. Inslee said he can do that all without new taxes.



"The road to a balanced budget and a fully funded education system runs directly through health care reform," he said.

Fully enacting 'Obamacare' will go a long way to solving the state's money woes, Inslee said.

Inslee also said he is committed to streamlining government, improving transportation, promoting alternative energy, and, on a day when the president pushed for strong gun control laws, the new governor called on lawmakers to tackle the gun violence problem.

"Any failure to address the issue of violence in our communities and our schools will be intolerable," Inslee said.

Well rested after a long, grueling campaign, the new governor is energetic and ready.

"Thank you and let's get to work," he said.

Republican leaders were pleased about Inslee's push for more jobs and his plan to close the state's budget hole without seeking more revenue.  But, clearly, there was some skepticism that Inslee would stick with that pledge.

"We're always looking for ways to save money, and right now people don't need to have their taxes raised," said Rep. Richard DeBolt, Republican House leader.

There was a full night of inauguration festivities at the Capitol before everyone returns to work Thursday -- the governor, legislators, statewide officials. Then, the hard work of government begins.