GOP stages Senate coup, leaves Dems worried about future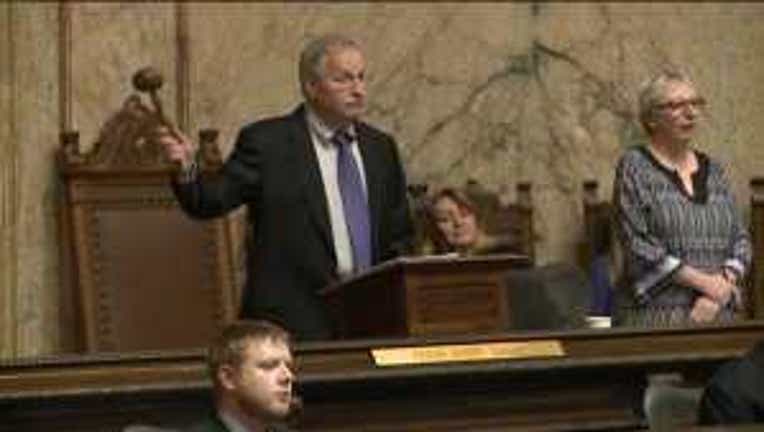 OLYMPIA -- Newly elected Republicans in the Washington state Senate pulled a political coup Sunday and took control of the chamber with the help of two conservative Democrats.

Two Democrats, Rodney Tom of Bellevue and Tim Sheldon of Potlach, joined Senate Republicans in a Majority Coalition Caucus Monday. The bi-partisan group will attempt to lead the Senate during the 2013 legislative session.

But instead of leading, Senate Democrats argue the move could mean more gridlock, and even affect incoming Governor Jay Inslee's ability to lead.

The move mimics a similar move last spring when three Senate Democrats gave Republicans the support they needed to take control of the state budget. In the end, the group produced a  bi-partisan plan budget plan, but was extremely controversial and created a lot of personal animosity among members.

The new Republican-pushed coalition said it will install one of the breakaway Tom into the position of Majority Leader.  A former Republican, Tom will be the one in charge. He said it keeps the bi-partisan push keeps the state moving forward.



"It's to keep the senate moving and again our governing principles moving Washington state forward," Tom said. "Jobs, education and a sustainable budget."

The most important effect of the new coalition could be a power-sharing agreement. Committee chairs will be split between Democrats and Republicans, instead of all being from the majority party. While this definitely sounds bi-partisan, Democrats would be blocked from leading some of the most important assignments, including heading up the all-important Ways and Means Committee.

Leaders of the new coalition argue that the move will ensure more moderate, bi-partisan policies that better reflect the desires of Washingtonians.

"I think this will work," said Sheldon. "I can personally attest to that. The committee put forth by the coalition caucus is a great way to bring more perspective and better geographical representation to the lawmaking process."

Senate Democrats said the coup could actually hurt the political process. Democrat Ed Murray, D-Seattle, expressed concern that the power-sharing agreement wouldn't work.

"We don't believe the Republicans 'Take-It-Or-Leave-It' plan offers the right way forward," Murray said in a statement. "We remain hopeful that Republicans will be open to negotiations to ensure the full functioning of the Senate."

Democratic Governor-elect Jay Inslee responded to the coup in a statement late today.

"Regardless of the structure in the Senate, I look forward to working with legislators from both parties to move our state forward," Inslee said.

Only time will tell how the coup will eventually shake out.