Good Samaritan saves kids who fell through thin ice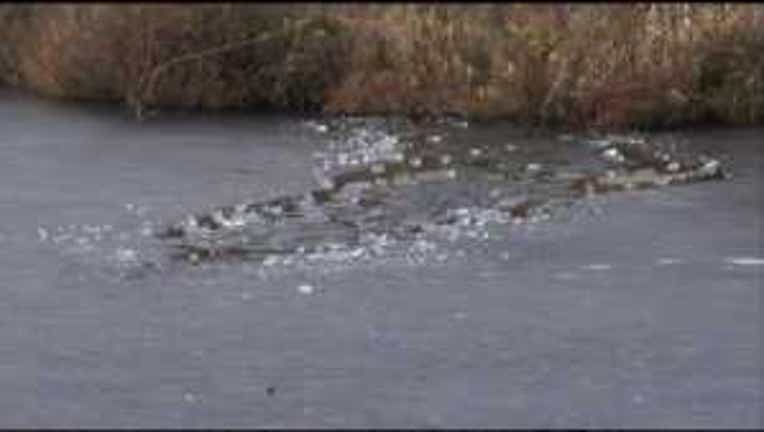 EVERETT- A Good Samaritan used some quick thinking to save two juveniles trapped in a partially frozen lake Sunday in Everett, officials with the Everett Fire Department said.

According to Everett Fire Department Fire Marshall Rick Robinson, crews were dispatched Sunday afternoon to a call of two kids that broke through ice on Beverly Lake in the 400 block of 75th Street SW in Everett. The boy and girl were trapped in the lake and couldn't grab hold of anything, officials said.

While crews responded, Richard Oleson, who saw the incident launched from his apartment building, launched a rubber raft into the icy water. He said the frozen water drew some kids to the area, and he was watching out for trouble.

"We watched them walk all the way over there," Oleson said. "We watched them one by one fall in the water and I acted the way anybody should act."



Without thinking, Oleson grabbed a small yellow inflatable boat and slowly made his way to the children.

"I just scooted myself in the raft until I got where the kids were at," he said.

Oleson first reached a boy struggling to keep his head above water.

"He was like up to his neck and he was like 'I can't do this anymore.' And I said come on," Oleson said. "Once I got him into the boat he was like, 'Oh no, we're gonna die.'"

Then Oleson pulled a little girl from the freezing water who was also struggling to stay afloat.  By this time, a crowd had gathered on the shore and welcomed the group back on dry land.

"Everybody here from the community had blankets and took them into my apartment," Oleson said.

Paramedics arrived and checked the children for hypothermia and they returned home. Oleson says he never once thought about his own safety.

"It wasn't scared it was just adrenaline," he said. "Just to get those kids out."