Good News Only: Boeing honors the 747, teen heart attack survivor helps others, Beyoncé's coming to Seattle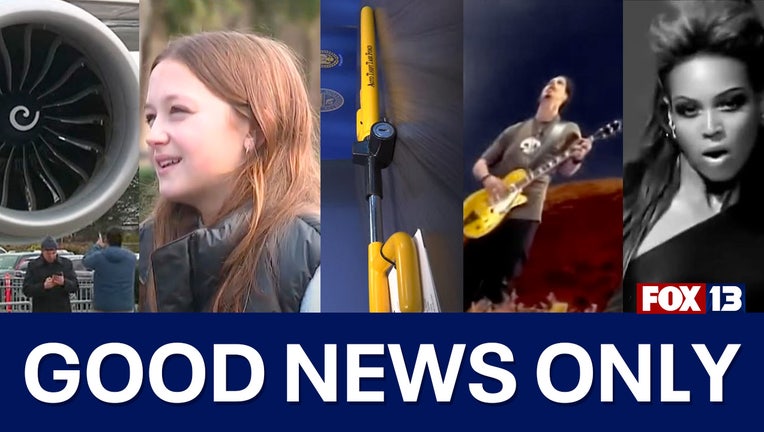 article
Boeing bid farewell to the iconic 747 jumbo jet. A teen athlete uses her sudden cardiac arrest experience to help others save a life. Queen Bee's latest tour is making a stop in the Emerald City, and Seattle's own 'Soundgarden' has been nominated to the Rock and Roll Hall of Fame!
Here are FOX 13's top stories of the week; good news only.
Boeing bid farewell to an icon on Tuesday - delivering its final 747 jumbo jet.
Since its first flight in 1969, the giant yet graceful 747 has served as a cargo plane, a commercial aircraft capable of carrying nearly 500 passengers, a transport for NASA's space shuttles, and the Air Force One presidential aircraft. It revolutionized travel, connecting international cities that had never before had direct routes and helping democratize passenger flight.
A big crowd of current and former Boeing workers were there for the final send-off.
For the full story, click here.
A teen athlete suffered a sudden cardiac arrest during a soccer match last summer, and now, she and her family are using that terrifying moment to educate others and raise awareness.
According to the Mayo Clinic, sudden cardiac arrest is the leading cause of death in young athletes.
13-year-old Nina Taft's life was saved at the Starfire Sports Complex in Tukwila with an automated external defibrillator (AED) when she collapsed on the field on June 4, 2022.
"One minute you're watching your 13-year-old daughter playing soccer and the other minute, she goes down, said Mary Taft, Nina's mom. "You're not thinking cardiac arrest, you want to solve it. When we ran over there, I think just the shock of it all and I remember the silence."
"This is a scary topic, but I want it to be mostly be about how important it is," Nina said. "Especially from my personal sport story, I want other people to be inspired by it."
For the full story, click here.
In response to a rise in thefts targeting other models of Hyundai's across the state and country, the Renton Police Department is offering free steering wheel locks for certain models to deter these thefts. 
Authorities attribute this spike in thefts to TikTok, where videos and groups show how to easily steal certain Hyundai's and Kia's using a USB cable. 
For the full story, click here.
RELATED: Good news only: Days are getting longer, 'Local Appreciation Day' at Pike Place, bear spotting on Mars
Beyoncé has announced dates for her 2023 "Renaissance" world tour, and it looks like she'll be making a stop in Seattle!
The superstar and "Break My Soul" singer will kick off the tour May 10 in Stockholm, Sweden. Her U.S. dates begin July 12 with a show in Philadelphia.
For the full story, click here.
Seattle rock band Soundgarden is among the 2023 Rock & Roll Hall of Fame nominees. 
The Rock & Roll Hall of Fame Foundation announced on Wednesday 14 artists on the ballot.
To see the full list of this year's nominees, click here.