Gonorrhea outbreak declared in Eastern Washington county
GRANT COUNTY, Wash. -- Health officials in Grant County have declared a gonorrhea outbreak due to the sharp increases in the number of cases in the county.

According to Grant County Health Officer Dr. Alexander Brzeny, cases of the sexually transmitted disease increased sharply  this year from the already record all-time high.

The epicenter of the outbreak is Moses Lake; the populations showing the highest rates are young females 20-29 years old, officials said.

The 2013 Grant County gonorrhea rate was 35.9 per 100,000, compared to the statewide rate of 63.8.  From January 1 through November 24, 2014, however, the Grant County gonorrhea rate is 77.5, marking a 118 percent increase.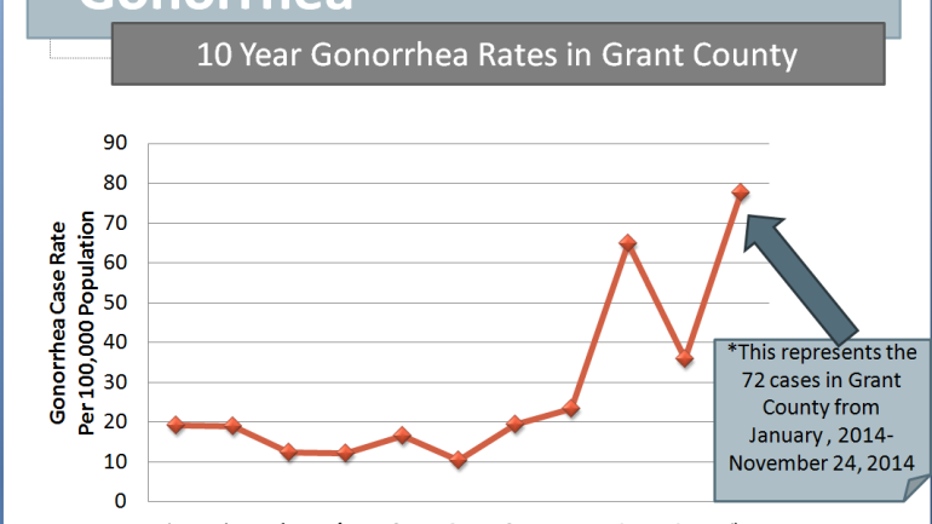 Gonorrhea is a treatable, sexually transmitted disease that rarely has symptoms in its early stages, especially in women. The symptoms may include penis or vaginal discharge, burning during urination, pain during sex, and lower abdominal pain in women.

"Grant County's highest rates are in young adults 20-29 years old. Young people having sex need to use protection every time," states Sheri Tyler, Communicable Disease Nurse. "Condoms are recommended to protect sexually active people from STDs."

Because the reported cases often represent only a fraction of all cases, the Grant County Health Officer is asking healthcare providers to increase screening their sexually active patients for gonorrhea and other sexually transmitted diseases.