Gold Bar hostage victim shares details of her scary night with a gunman
GOLD BAR, Wash. - It's been roughly a week since an employee at Gold Bar Family Grocer was held hostage.
That employee, Tami Ball, was wrapping up her shift on Jan. 9 in a backroom office when a man burst in the door without pants. At first, she thought it was a confused older man looking for a bathroom. Eventually, she spotted a gun in his shaking hands.
According to Ball, the man was frantic telling her that people had been trying to kill him. She didn't notice the gun at first – but once she did she yelled to her co-workers to stop them from trying to break into the room.
Outside the room, the Snohomish County Sheriff's Office and the SWAT team had been called to the store. 
Ball wound up spending nearly 3 hours inside the room, trying to calm him down – her husband telling FOX 13 News that her actions may have saved both of their lives.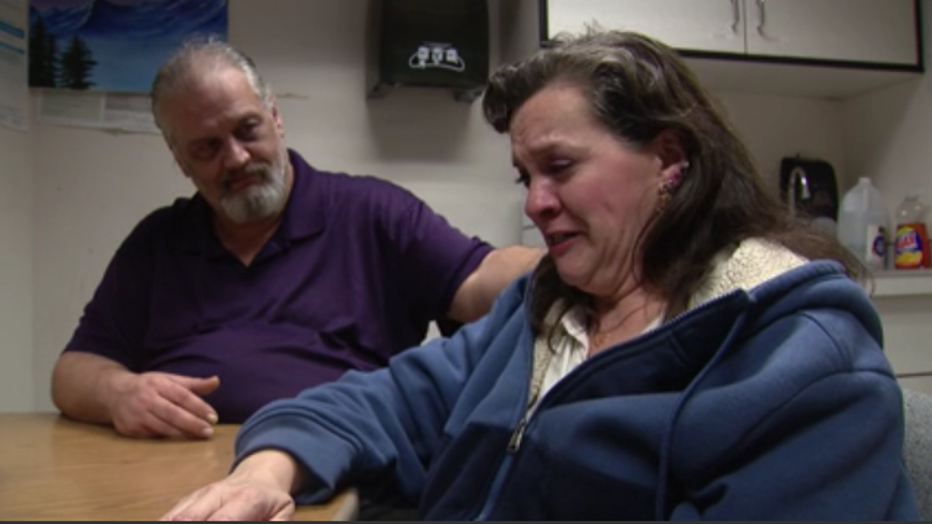 Tami Ball explained the terrifying night she spent in a backroom office while being held hostage inside a Gold Bar grocery store.
While in the room, Ball realized the man was having a mental crisis – it's unclear whether he was on drugs, but she understood that he needed help. During that time she spent time on the phone with 911 and others, while telling jokes and getting to know him.
While most would be angry with their captor, Ball is more frustrated with the fact that no one intervened sooner.
Rob Gigliotti, Tami's husband, rushed up to the store when he was contacted. He told FOX 13 that he wanted to run into the store like any other husband would – instead, he was stuck outside relaying information to the pair's teen daughter. All panicked.
While outside, Gigliotti said an officer informed him that the suspect had 911 called on him earlier in the day. Since the incident, the pair have heard from the man's friend and it's helped them fill in the blanks of what occurred before the hostage situation.
"I'm very upset at the police because from what I hear they'd been at his house earlier that day and he was complaining about dead bodies in his trailer and they didn't do anything about it," said Ball. "They let him down, and they let me down. They endangered both of our lives. I'm furious about that."
"You can't expect police to be an expert in everything, but I think most people can understand if a guy is seeing dead bodies and chasing people around with a baseball that isn't a normal activity," continued Gigliotti. "Maybe we need to get something more knowledgeable of these things, because we don't want to see our neighbors go through this."
Neither Ball or Gigliotti were angry with the suspect – more of what they perceived as a lack of action before the incident took place.
FOX 13 News reached out to the Snohomish County Sheriff's Office, which operates a substation in Gold Bar, through multiple e-mails and phone calls. After 24+ hours no one from the Sheriff's Office has responded to questions about the events leading up to the hostage situation.
As for the suspect, Ball had a message for him she shared directly to our camera: "Chuck, I'm very sorry this happened to you -- we all have bad days. You had a doozy. I'm not mad at you, but I'll be furious with you if you don't take this opportunity to get help. If you need detox, if you need to get off booze, if you need medication whatever it takes. Please get help."
Since the incident the public has overwhelmed Ball with their reaction.
This weekend she wrote a large poster-sized thank you to make sure customers see it while checking out.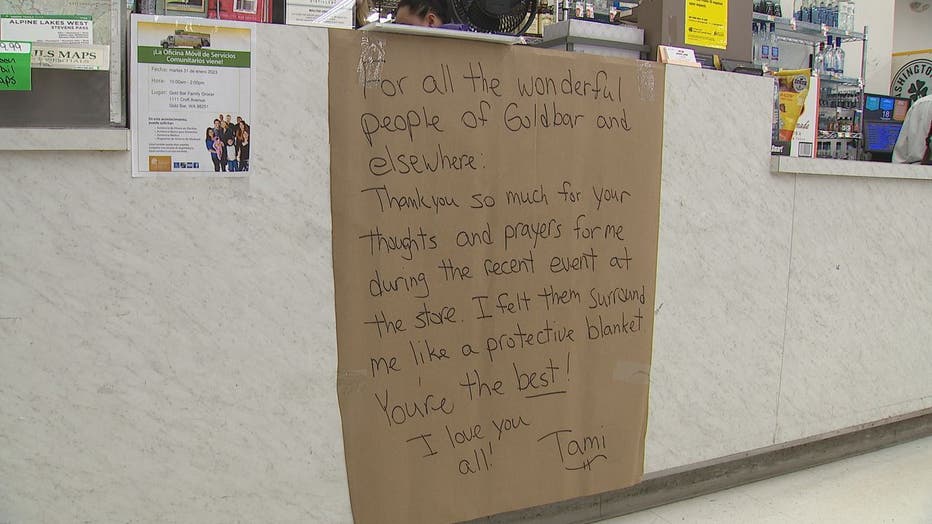 Tami wrote a thank-you letter to share next to the register following the large number of well-wishes from customers.
She's back to work, and hopeful she won't see the man anytime soon – though, she did say a number of his friends have checked in on her.