Going solar gets easier, cheaper with new PSE program
KINGSTON, Wash. -- Most of the electricity you get from Puget Sound Energy comes from fossil fuels. According to 2015 numbers from PSE, 60 percent of their energy mix comes from coal and cleaner-burning natural gas. But the utility is trying to generate more power from renewable energy sources, like wind and sun.

PSE is rolling out a new program and asking rate payers to help out. It allows customers to power their homes with solar panels--without having to buy, install and maintain them.

"To me, it's a lot of common sense," says Greg Heath. He and his wife, Kat, both engineers, have two kids.

"We have children and so we're mindful of the world we're building for them," says Kat.




The Heaths have been thinking of putting solar panels on their Kenmore house for years.

"Solar just keeps getting bumped down due to the cost," says Greg. "But the solar choice program only costs us about 30 bucks a month to cover our entire house."

When Puget Sound Energy unveiled a new program this spring to buy-in to existing solar installations, they jumped at the chance.

"I was crazy excited," says Greg.

The PSE program is called Solar Choice and it gives customers a chance to buy blocks of solar power -- starting at only $5.

"We really wanted to make it as easy as possible for our customers," says Therese Miranda-Blackney, a product development manager for Puget Sound Energy. She says the utility's website has a calculator that shows the cost of going a little bit solar -- or all the way.

Despite our wet and gray weather, solar works here in the Pacific Northwest because the panels operate more efficiently in our cooler temperatures -- and our longest days of the year are also our sunniest. In fact, many places around Puget Sound have as much solar power potential places as spots with sunnier reputations like Florida.

PSE has a dozen solar installations so far around their service area and a full solar farm located in Idaho.

"It's something we're hearing a lot from our customers," says Miranda-Blackney, "and what they're really looking for is more renewable options and choices about where they get their power from."

The utility already offers a green power optional upgrade, but the Solar Choice program is 100% solar power. But the spots available are limited. Less than 3,000 can buy into the existing solar arrays. The good news is that with more demand, the utility can buy or build more. As of the beginning of May, the utility says the program is 55 percent sold out.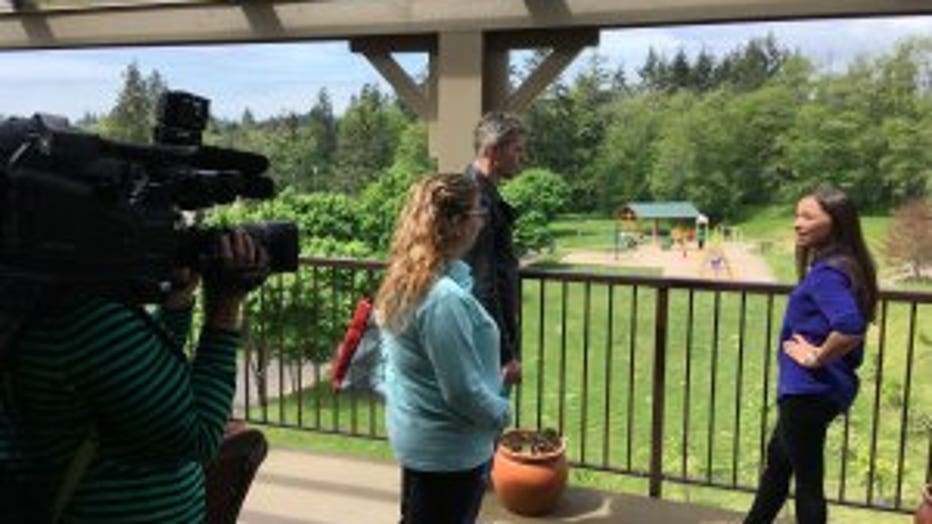 The Heath family of Kenmore gets to check out the solar installation that's part of PSE's new Solar Choice program.


For the Heath family, they got a chance on this sunny May afternoon to check out the solar array on the roof of the Kingston Community Center. The couple says the choice to upgrade to solar power without having the expense of putting in panels themselves was a no-brainer.

"We're a modern family with televisions and electronics and everything and I feel better about all that knowing that we're making a solar choice," says Kat.

Greg says it's not about bragging rights. "Leading by example. Just doing what I think is right and hoping other people do the same."

Click the link for more information about Solar Choice.