Going on Seattle ballot: $60 car tab fee, sales tax hike in city to save bus routes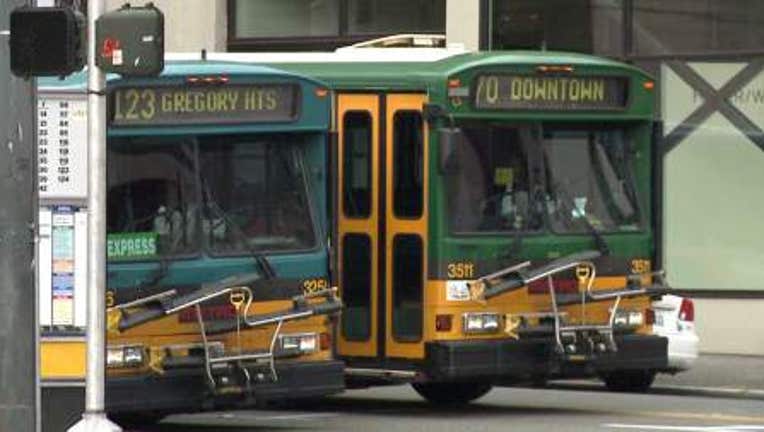 SEATTLE -- The Seattle Transportation Benefit District Board on Thursday voted to place Mayor Ed Murray's proposal to finance Metro Transit service in Seattle on the Nov. 4 ballot.

On May 13, Mayor Ed Murray a $60 car tab fee and a 0.1 percent sales tax increase for Seattle residents only to prevent deep Metro Transit bus cuts in the city.

 

The city's plan is essentially the same as the county's Proposition 1, which King County voters rejected at a special election in April.

 

The mayor pointed out that Proposition 1, while going down to defeat county-wide,  received a 66 percent approval vote by Seattle residents. He believes city voters will support his plan when it hits the ballot in November.

 

"I was very disappointed with the failure of King County's Proposition 1 in April, especially because of the overwhelming – two-thirds – support from Seattle residents," Murray said in a statement Thursday. "It's clear that Seattle voters value transit service as a way of life, and for many it is a life-line we cannot afford to cut. Preserving transit service is the most progressive act we can take, but we must ensure our low-income residents are not overly-burdened by the increased taxes. The proposal includes a low-income vehicle fee rebate and increased access to King County's planned low-income fare."

The proposal would provide a $20 rebate on the car tab fee to low-income residents.

 

"I want to thank the Board members for sending the proposal to preserve Metro Transit service in Seattle to the ballot," Murray said.

"My colleagues on the Council and I are committed to a long-term, regional funding solution for transit," Murray said. "While this measure will help preserve service in the short-term, I am also committed to working with the King County Executive, coalition partners and our legislative leaders toward achieving a balanced comprehensive statewide package as quickly as we can."



Murray also said the increase in taxes and fees would be "temporary," until the Legislature passes a state transportation funding plan that would include Metro.

Murray's plan is similar to what King County Executive Dow Constantine announced May 12. His plan called for separate jurisdictions to fund routes that are on the chopping block or pay money to add additional routes.