Go Red for Women: Here's what it looks like when our husbands do our makeup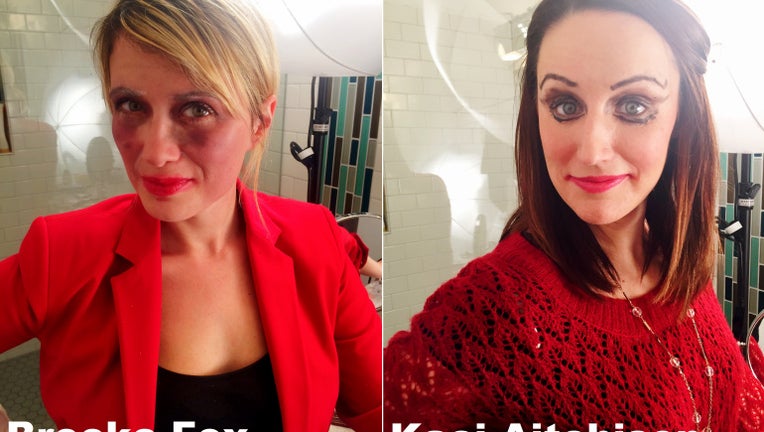 Above: Who wore it best? (Hint: Neither of us did. But it's for a good cause, so it's AWESOME!)

SEATTLE -- Did you know that every year, one out of every three women dies of heart disease or stroke? Yet, education and a healthy lifestyle can prevent 80% of cardiovascular diseases. These alarming statistics are why we're urging our viewers to Go Red for Women's Heart Health on behalf of the American Heart Association! Friday, February 5th is National Wear Red Day.

Brooke Fox of Brooke & Jubal in the Morning on Movin 92.5 has long been a supporter of this cause, and came to me awhile back to see if I would be up for doing something fun and silly with her to promote awareness. As you can imagine, the idea of doing something funny for a good cause resonates with me on many levels.

Brooke's genius plan? Ask our husbands to attempt to do our makeup ('attempt' being the key word, here) and have our listeners/viewers vote on their favorite. For each vote, KeyBank will donate one dollar (up to $2,000) to the American Heart Association. Here's the video:




Our husbands have asked us to remind you they are very good people who are talented in many other ways. They plead with you to recognize that in the true spirit of being "artistes" (please pronounce that "arTEESTS" for full affect), the results are "unique" and "creative", and not "concerning" or "terrifying" as you may initially be inclined to believe.

Watch the amazing makeup craft of Michael (Brooke's husband) and John (my husband) in the video above; then please vote below to automatically raise money and promote heart health. Voting runs through Friday, February 5th- National Wear Red Day! Please consider wearing red with us.

KeyBank is the proud local sponsor of Go Red For Women by the American Heart Association.