'Giving to the Givers': Whidbey Quilters are stitching up local veteran's old wounds of war


LANGLEY, Washn --- A group of Whidbey Island quilters are on a mission to honor local veterans right in their own community.

They call it "Giving to the Givers.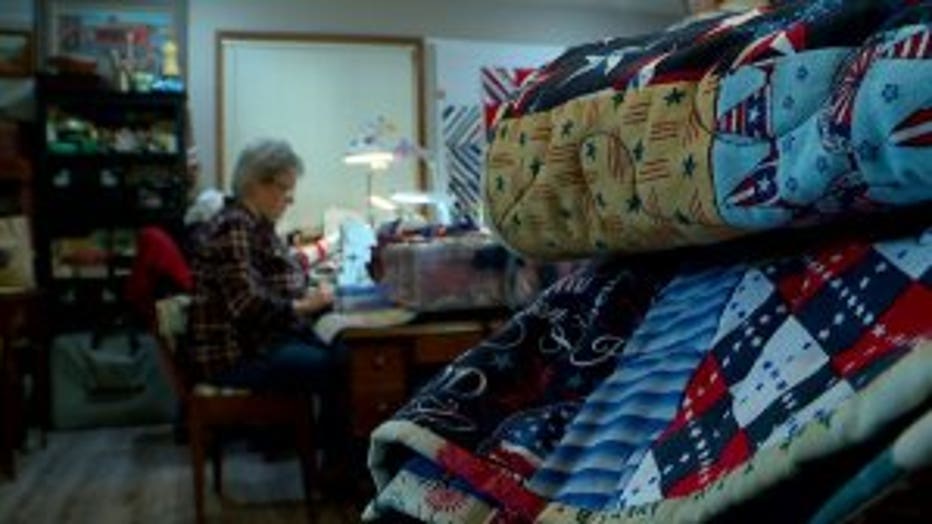 And for nearly three years now…the first Wednesday of every month has begun to look and sound pretty similar.

We usually have a lot of interesting things to talk about," described Anita M. Smith, founder and team leader of "Quilts for Veterans."

"Whoever's husband did something silly today," volunteer quilter Connie Duddridge chimed in.

The group of South Whidbey quilters normally meet at the grange, not in Connie's basement. But here or there, the rules are basically the same.

"The big rule that I have is 'it's not a sweatshop'," explained Smith.

More like the opposite. When this group of volunteers sit and stitch this close together, they sound more like a group of teenagers, laughing and enjoying each other's company.

But make no mistake, these gabbing gals and Gary—are on a mission.

"We're just coming here to have fun and make something for the veterans," said Smith.

The grassroots group calls their secret project 'Quilts for Veterans'.

"It's always fun to surprise somebody--  mean, no it's not a puppy," said Duddridge.

It is, however, a labor of love.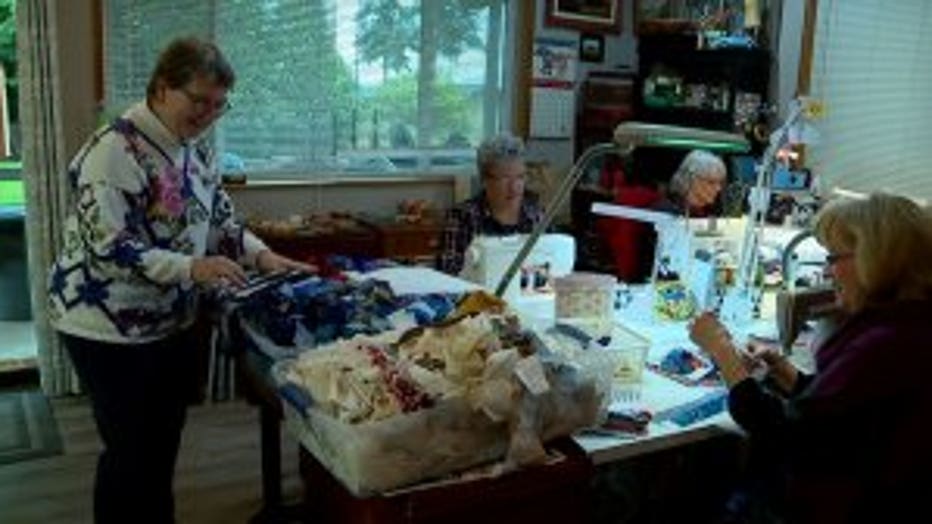 The quilters are made up from a team of volunteers. Some live on Whidbey Island, others hop on the ferry and drive in, just to join the efforts.

Each person with a different job, like hand stitching binding and ironing.

"Somebody puts the squares together. Somebody cuts the squares. Somebody brings the fabric," explained Smith.

There's even a designated label maker, and someone to sew on each label to the quilt. In October they recently completed their 141st quilt.

Each quilt just as unique as the veteran receiving it, like Vietnam veteran and Marine Corporal Jim Thompson.

"Jim was one of those people that we just couldn't get to ," Smith explained. "We tried in March, but he wasn't there. We tried in April and he wasn't there."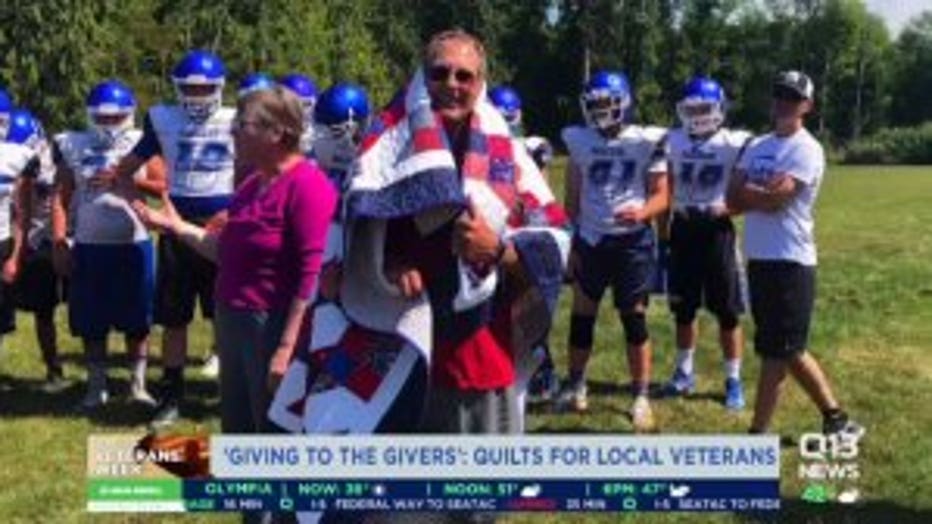 Corporal Jim Thompson remembers exactly when he received his quilt.

"We were at spring football practice," Thompson described. "And a car comes out onto the practice field and I go 'What the heck is this?'"

"We got the whole football , they were in on the whole thing," Smith described.

"When she gave it to me I just wrapped it around me. Think about those people sitting down and doing that," Thompson said--filled with emotion. "That was--yea I cried. That was one of the nicest things that's ever been done for me  by total strangers."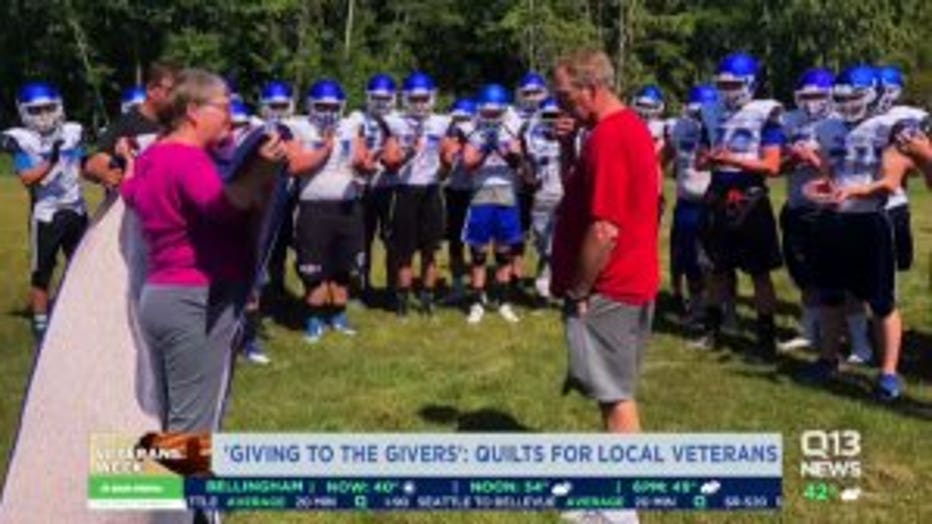 It wasn't until a few days later, when Thompson's son, Evan, told Smith just how significant that day really was.

"All of the sudden I thought it's a June 18th," described Thompson. "I'm getting this quilt on what at the time was the worst day of my life June 18th."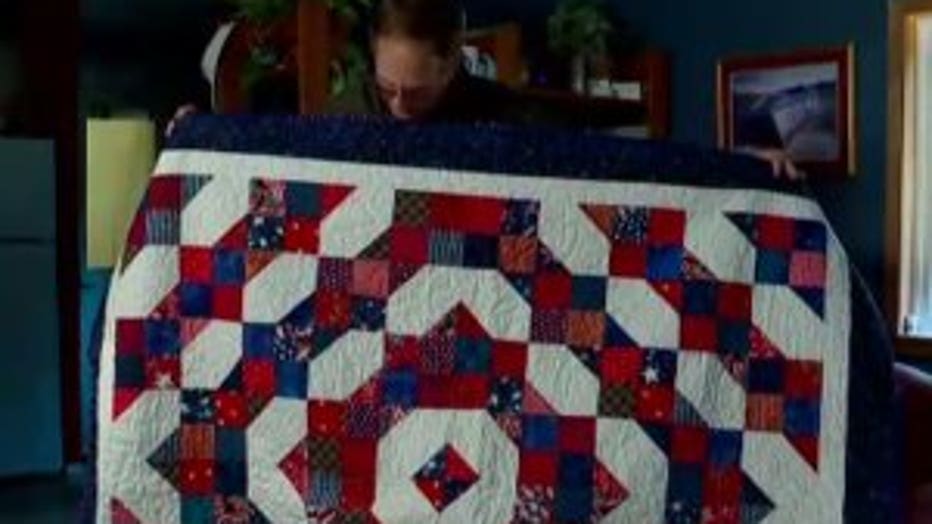 Thompson remembers that day, exactly fifty years prior, in the mountains east of Dong Ha, like it was yesterday.

"We started moving off the hill and we starting hearing thump, thump, thump… and then crack, crack, crack--the mortars starting," described Thompson. "The first round that came in killed Calvin and Bobby."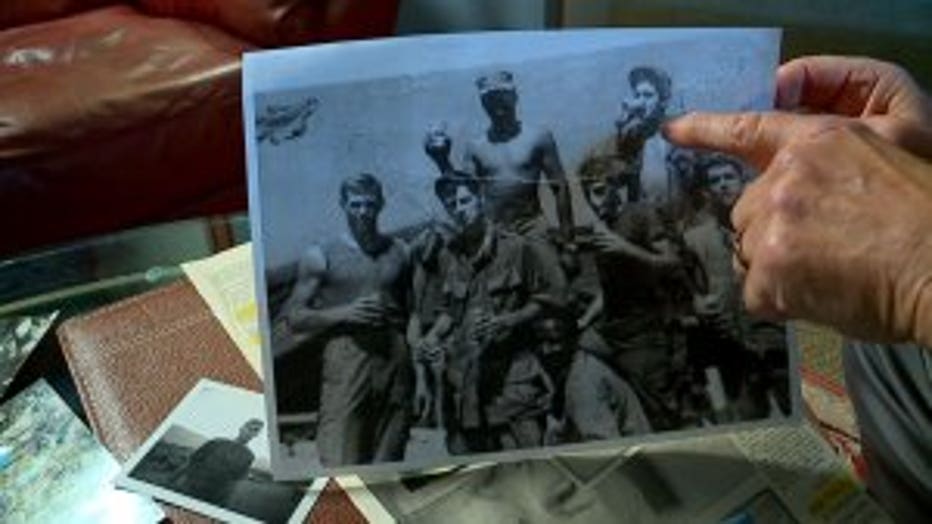 Thompson was injured, but alive, and received his third purple heart after the attack.

"The next day I was on the chopper out with seven dead marines from my platoon…That was a long ride back to Dong Hong with friends--dead friends," said Thompson, trying to hold back the tears.

The reality and the magnitude of his experience and the lives lost never really struck a such an emotional cord with him until Thompson returned home. When he first saw so many friends and soldiers' names listed on The Vietnam Traveling Memorial Wall.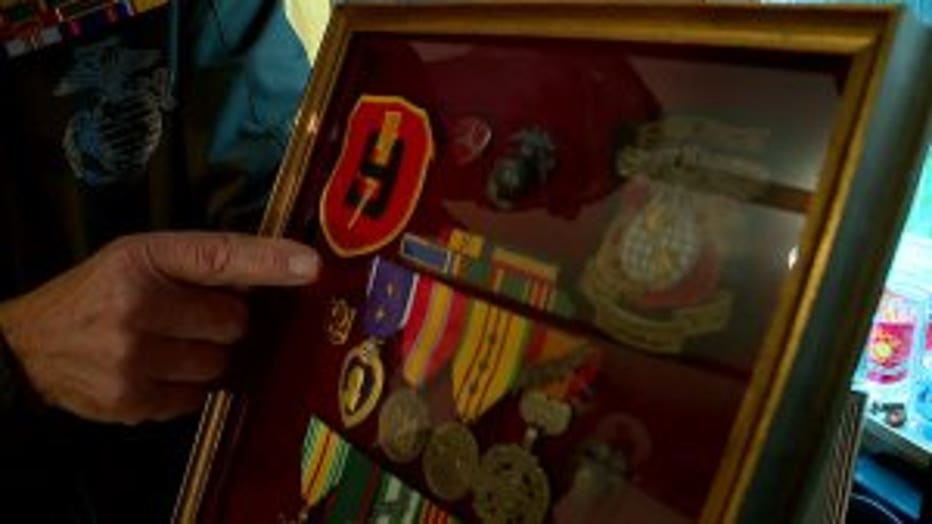 "I said his name is Malcerath, and they looked it up and they said 'Winston?' and my wife said I actually fell to the ground," described Thompson tearfully. "That was the first time I think I came to grips on anything."

For some soldiers, the physical and emotional toll of combat will never fade.

But perhaps these quilts, and the hope sewn into them, is just the start of stitching up old wounds of war.

'Quilts for Veterans' is an informal group and currently not listed as a non-profit. They'd be happy to accept financial and fabric donations or you can just join them on their next veteran project. The meet at the Deer Lagoon Grange in Langley, Washington from 10am – 5pm on the first Wednesday of every month.