Girl with autism turned away by Santa because she brought pitbull service dog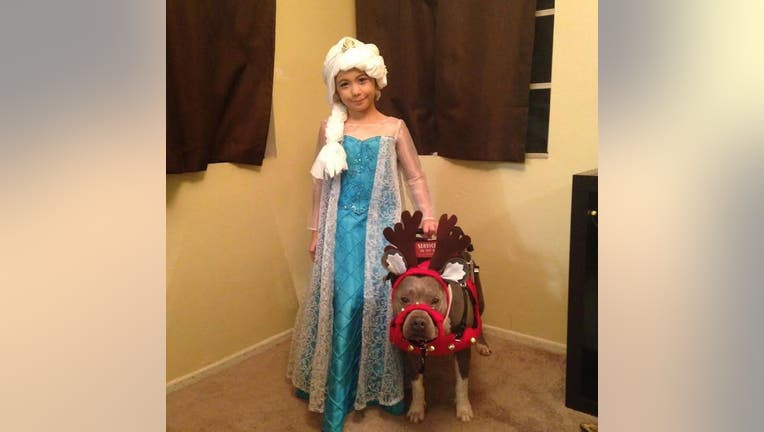 article


MISSION VIEJO, California --  After waiting patiently for more than a half-an-hour to meet Santa, a family of a little girl with autism says they were cold-heartedly turned away by the less than jolly fellow and his elf.

That Santa Claus and elf have summarily been fired and both the company that hired them and the mall where they were working have offered very public apologies to the little girl.

In a written statement posted on Facebook, the family said it all started Sunday at the Shops at Mission Viejo in California.  Abcde Santos wanted to ask Santa what he would like for Christmas.  But her autism can make large crowds and public places very scary for her.

" autism is accompanied by many sensory issues, including self-harm behaviors and feeling overwhelmed at times by lights, sounds and especially waiting," the family wrote on Facebook.

That's why Abcde has had her dog Pupcake by her side since 2009.  Pupcake is a service dog trained to intervene before these sensory issues take hold of Abcde.

It seems the problem for Santa and his elf wasn't Abcde, but the fact that Pupcake is a pitbull.

"Santa was afraid of her service dog," wrote the family.

The family said they were turned away because Santa told them "/?type=1">those dogs eat people."

https://www.facebook.com/PupcakePitBullServiceDog/photos/a.613381395372476.1073741828.613370602040222/838790099498270

"After the Santos family offered to remove the dog from the area, the building, Santa still refused to see the child; sending her away heartbroken leaving a family to comfort a child instead of celebrating her accomplishments," wrote a family spokesperson on Facebook.

The family's outrage quickly reached the ears of mall management who posted an apology on their Facebook page.

"We share in your concerns regarding the situation today involving a Santa at The Shops at Mission Viejo.  We do not condone the behavior displayed by Santa and have worked with our partners at Noerr, the company that hires our Santas, to replace this Santa with one that is more compassionate to our guests' needs."

In a follow up statement from the family, a spokesperson confirmed that news.

"Santa and the Elf have subsequently been fired."

In response the mall posted on its Facebook page that it would be expanding its yearly 'Caring Santa experience' which it calls a 'sensory-friendly environment for families of children with special needs.'

The names names of this faux St. Nick and elf were not released.