Geologist: Landslide may happen by February after crack forms in ridge near Yakima; WSDOT taking action


YAKIMA, Wash. -- A geologist hired to study growing cracks on Rattlesnake Ridge near Yakima estimates up to 1 million cubic yards of rock and soil could move down the ridge in a landslide.

But most of the material would be trapped in a quarry and not reach Interstate 82 or the Yakima River.

As a precaution, the Washington State Department of Transportation is installing large freight containers that have 12 tons of concrete barrier inside them and are lined up against Thorp Road so that if any rocks do come off the slide area, they won't go onto I-82.

The Yakima Herald-Republic reports that geologist George Machan also said this week that the landslide is projected to occur sometime between now and the end of February.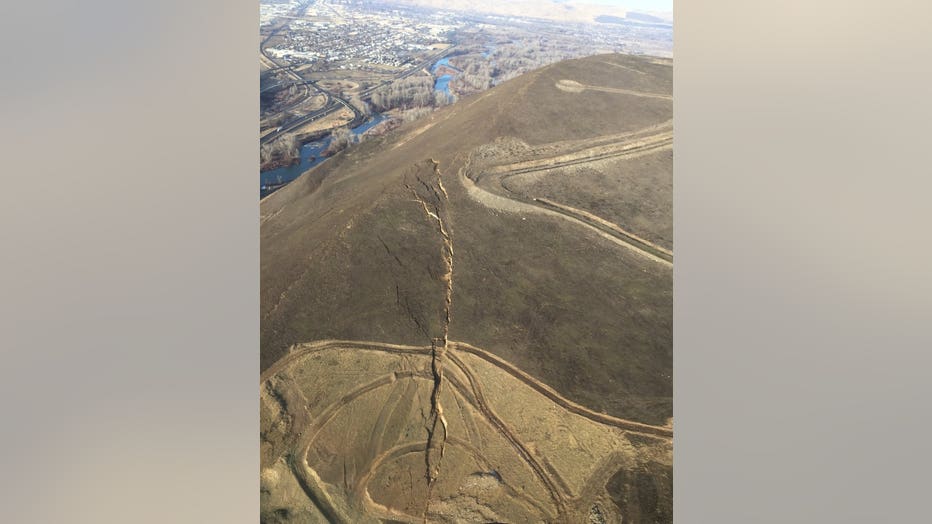 Used with permission from Bridget Turrell/Yakima Herald-Republic


A spokeswoman for the state Department of Transportation says Interstate 82 will be closed at the first sign of excessive movement or increased frequency of rock fall.

Machan says the risk of the interstate or nearby Yakima River is low.

The ground on the ridge is moving about 2.5 inches per day.