Garfield, Issaquah high schools to team up against racism after tweets


SEATTLE -- Instead of lashing out at a series of disturbing tweets, Garfield High School students are reaching out and trying to make a change.

"We have decided to reach out to the Issaquah School District and community," said Lalah Muth, president of Garfield's Black Student Union, during a rally on the steps of the school Wednesday.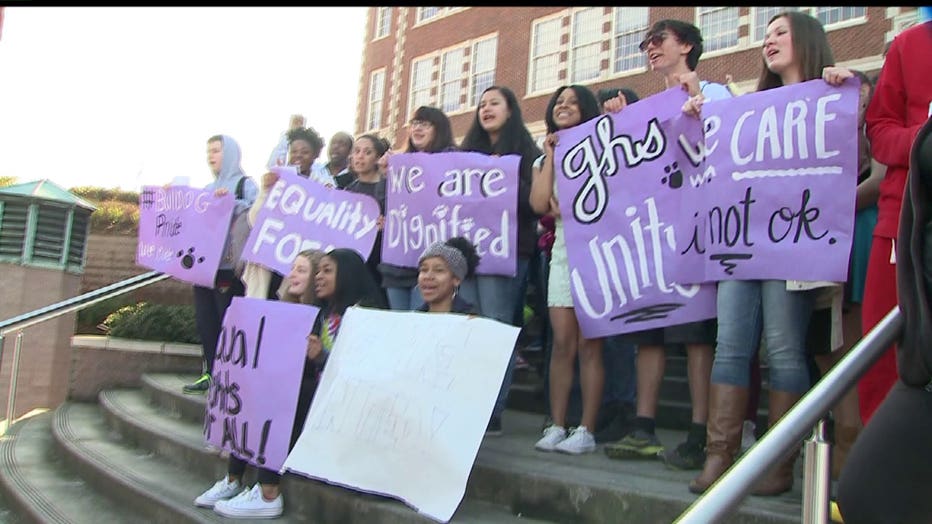 Garfield High School students in Seattle hold rally against racism Wednesday, March 12, 2014. (Photo: KCPQ-TV)


The students want to have a conversation with Issaquah High School students after a disturbing incident on social media last month following a basketball game between the two schools.

Four Issaquah students are accused of posting racist tweets about the Garfield's team following the game.

"I couldn't believe that it was made in the social media aspect and they were so blunt to say that in public," said Mohammed Jagana, vice president of the Associated Student Body.

Issaquah students told Q13 FOX News that the kids behind the tweets were suspended and Issaquah High quickly sent an apology to Garfield.

"We were really offended and appalled at the language that was used in those tweets," said Andrea McCormick, Issaquah High principal.

The incident sparked a larger discussion about race and diversity at Issaquah, and McCormick said the school welcomes a larger dialogue with Garfield.

The plan is to get about 60 students, educators, and parents together for a dinner in the near future.

Suzy Emerson, a junior at Issaquah, hopes it leads to an ongoing relationship between the two schools.

"We`re definitely planning on this being a lasting relationship," said Emerson. "We're talking about doing projects with them, and ensuring that something like this never happens again."

Students at the Garfield rally also hope the kids behind the tweets will show up for the talks.

"Show that you're trying to take responsibility for your actions," said Jagana. "And that you realize that this has had a huge impact on our school."

Garfield students also want the Seattle School District to tackle racism in the classroom and make it a bigger part of the curriculum.

"What a lot of people do not realize is not only do students of color experience racism from other schools, students at Garfield deal with racism every day," said Jagana.

Seattle Schools Superintendent Jose Banda released a statement saying race and diversity is part of a new five-year strategic plan, and he said he looks forward to meeting with Garfield students soon.