Gambler who lost $500,000 sues, saying casino let him play drunk


LAS VEGAS -- How drunk is too drunk to gamble?


A Southern California man has sued a Las Vegas casino after he lost $500,000 on blackjack and pai gow over Super Bowl weekend, contending he shouldn't be responsible for his losses because he was blackout drunk.

In the lawsuit, Mark Johnston, 52, of Ventura, accuses the Downtown Grand casino of plying him with drinks and lending him money so he could keep playing.

Johnston, a longtime gambler, acknowledges that he went on a drinking binge before he ever reached the casino floor.

On Jan. 30, the lawsuit says, Johnston had two to four drinks at the Burbank airport, one drink on the hourlong flight to Las Vegas, one drink prepared by his limosine driver when he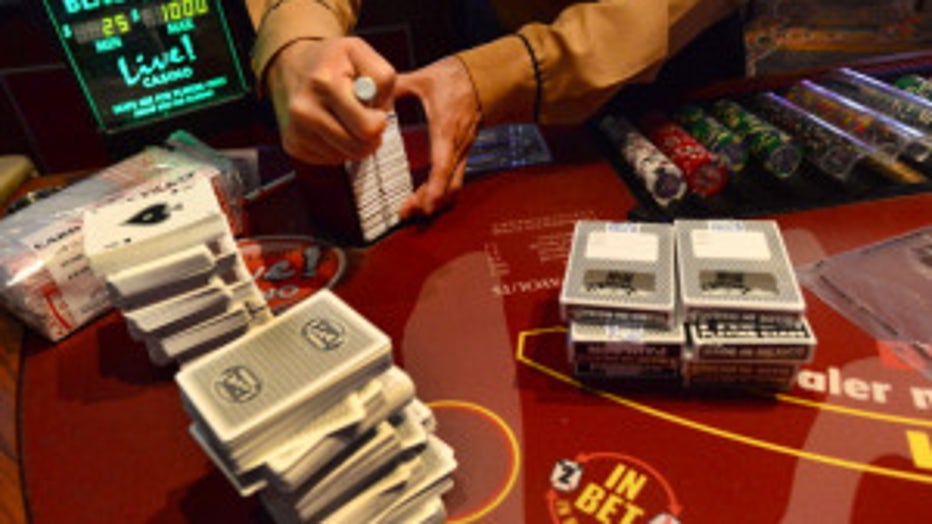 arrived, another drink while riding inside the limo, and then "several more" drinks at dinner shortly after checking into his hotel.

For those who are counting, that's up to seven drinks before dinner.

Johnston says he does not remember what happened after dinner.

That's when Johnston embarked on a 17-hour gambling run at the Downtown Grand, during which time he drank 20 or more additional drinks, the lawsuit says -- and lost $500,000, which was made possible by credit the casino extended to Johnston.

The lawsuit says that while Johnston was piling up losses, he was so drunk that he couldn't read his cards and was dropping his chips.

Nevada law forbids casinos from allowing visibly drunk patrons to gamble, as well as from giving free drinks to obviously drunk customers.

"What we typically see in cases like this where someone's obviously had too much to drink, a host, a pit boss is stepping in, saying, 'Hey buddy, why don't you take a break?'" Johnston's attorney, Sean Lyttle, told the Los Angeles Times. "It seems that everyone in the building was perfectly all right with my client bidding for 17 or 18 hours nonstop, just being served drink after drink."

A spokeswoman for the casino told The Times on Thursday that company policy did not allow her to comment on pending lawsuits.

Johnston, who has reportedly become wealthy from car dealerships and real estate development, told CNN: "I am not a sore loser. I've lost half a million. I've lost $800,000. I've lost a lot of money. This has nothing to do with that. Obviously I can afford what I lost."

Johnston added: "This is about you almost killing me. What if I had gone to bed that night, with all those drinks in me, and I threw up on myself and I choked and died?"

Lyttle, his attorney, told The Times: "At the very least, this was negligent, it was careless. At the worst, it was intentional and malicious. … Whatever it was, it was wrong."

Such a scenario is not totally without precedent. Several gamblers have sued casinos over the years on allegations that they were too drunk to be responsible for their losses -- and have encountered mixed success.

In 1989, a federal court in New Jersey ruled that a man who claimed to have lost $250,000 during an intoxicated binge had grounds under state law to sue the Atlantic City casino that gave him drinks and loans during his play.

"A casino has a duty to refrain from knowingly permitting an invitee to gamble where that patron is obviously and visibly intoxicated and/or under the influence of a narcotic substance," the court ruled in the GNOC Corp. vs. Aboud case, denying the casino's attempt to throw out the case.

The court added: "While under the influence of drugs or alcohol, one suffers a deficit, to varying degrees, of cognitive faculties such as the power to reason sensibly, to appreciate the danger of activities engaged in, and/or to exercise sound judgment."

Despite notching a big procedural win, however, a jury eventually decided that the gambler, Shmuel Aboud, had not proved that he was intoxicated enough to not know better.

A similar problem tripped up Ayhan Hakimoglu, who lost more than $2 million during one New Jersey binge, and whose suit was thrown out after a federal appeals court ruled that it would be difficult to prove when gamblers were too drunk to be responsible. (Current U.S. Supreme Court Justice Samuel Alito wrote that opinion while he was sitting on the bench of the U.S. 3rd Circuit Court of Appeals.)

In Las Vegas, similar cases have been settled quietly and out of court. In 2000, an Encinitas man settled with two casinos where he claimed to have lost more than $1 million while the casinos supplied him with drinks. Terms of the settlement were not disclosed.

More recently, after he lost more than $127 million in a year-long binge in Nevada, high-rolling businessman Terrance Watanabe became embroiled in a legal battle with Harrah's Casino over $14.7 million in gambling debt.

The casino wanted Watanabe to pay; Watanabe said he shouldn't be responsible because the casino had plied him with alcohol and painkillers.

Eventually the two parties agreed to arbitration, the outcome of which was agreed to be -- you guessed it -- confidential.

Johnston's attorney, Lyttle, declined to comment to The Times about previous precedents, but said he felt confident he could establish that his client was plainly drunk.

"I think it would be difficult to prove whether anyone was 'blackout' drunk, but that's not what regulations say. … They say 'stop serving someone when they're visibly intoxicated,' " Lyttle said, adding, "I have numerous witnesses that told me the same story" -- that his client was very, very drunk.

In other circumstances, that might not be a good thing, but that's Vegas for you.