Future of warfare? Navy launches unmanned, computer-guided jet off carrier


By W.J. Hennigan

Los Angeles Times

For the first time in naval aviation history, a drone was catapulted off the deck of an aircraft carrier and soared into flight.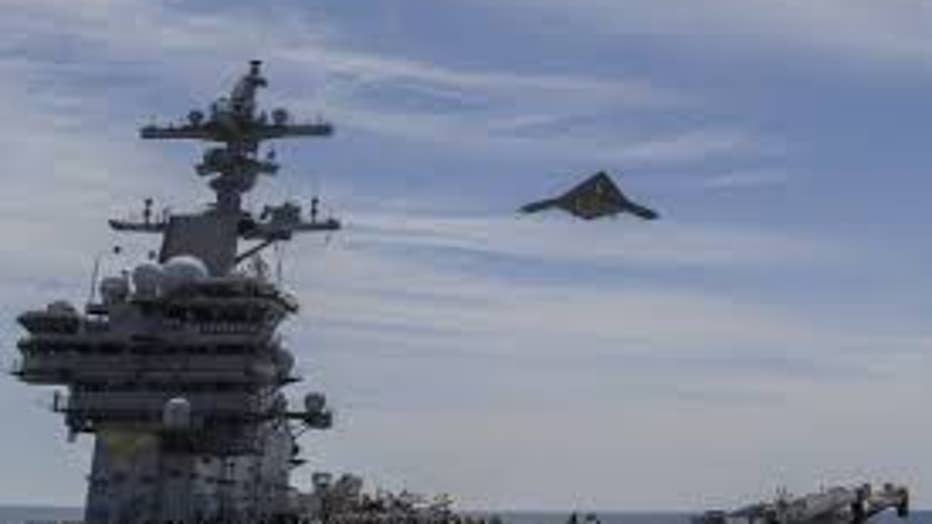 Navy conducted the test Tuesday from aircraft carrier George H.W. Bush off the Virginia coast with its X-47B experimental drone.

It's a key milestone in the progression of drone technology and the program, which has been eight years in the making.

"Today we saw a small, but significant pixel in the future picture of our Navy as we begin integration of unmanned systems into arguably the most complex war-fighting environment that exists today: the flight deck of a nuclear-powered aircraft carrier," Vice Adm. David Buss, commander of Naval Air Forces and known as the Navy's "Air Boss," said in a statement.

The bat-winged X-47B launched from the deck at 11:18 a.m. EDT. It executed several maneuvers designed to simulate tasks that the aircraft would have to perform when it lands on a ship. Then, the Navy said it safely transited across the Chesapeake Bay to land at Naval Air Station Patuxent River in Maryland after an approximately 65-minute flight.

The X-47B, built by Northrop Grumman Corp., is designed to land on the deck of an aircraft carrier, one of aviation's most difficult maneuvers, but that was not part of Tuesday's test.

The drone is autonomous, marking a paradigm shift in warfare. Currently, combat drones are controlled remotely by a human pilot. But the X-47B is designed to carry out a combat mission controlled entirely by a computer. A human pilot would design its flight path and send it on its way; a computer program would guide it from a ship to target and back.

What also sets the drone apart from most of today's combat drones is that it is stealthy and jet-powered.

The X-47B, which resembles a miniature B-2 stealth bomber, has a 62-foot wingspan and can fly to an altitude of more than 40,000 feet. It has a range of more than 2,400 miles and can reach high subsonic speeds.

The drone is designed to fly farther and stay in the air longer than existing aircraft because it does not depend on a human pilot's endurance. Navy fighter pilots may fly missions that last up to 10 hours. Current drones can fly for three times that long.

The X-47B is an experimental jet — that's what the X stands for — and is designed to demonstrate new technology, such as automated takeoffs, landings and refueling. The drone also has a fully capable weapons bay with a payload capacity of 4,500 pounds, but the Navy said it has no plans to arm it.

The first X-47B had its maiden flight from Edwards Air Force Base in 2011, where it continued testing until last year when it was trucked from the Mojave Desert to Naval Air Station Patuxent River. The drone's design was so startling that motorists passing it by on the highway thought it was a UFO.

Over the last year, the Navy conducted shore-based catapults at Patuxent River, Md. It also conducted deck-handling and ship-integration testing to demonstrate the capability to safely operate the X-47B on an aircraft carrier flight deck.

The Navy has said it expects the X-47B to first land on a carrier later this year, relying on pinpoint GPS coordinates and advanced avionics. The carrier's computers digitally transmit the carrier's speed, cross-winds and other data to the drone as it approaches from miles away.

There were two X-47Bs built under a contract awarded by the Navy in 2007 -- but costs have escalated to more than $1 billion. They were constructed behind barbed-wire fences and double security doors at Northrop's expansive facility in Palmdale.

The Navy currently flies MQ-8B Fire Scout helicopter drones, also built by Northrop, but their range is more limited and far slower.  The Navy wants to buy a fleet of fixed-wing drones between 2017 and 2020.