'Freedom to buy books:' 100 Seattle high school students get gift of literacy
SEATTLE-- It's a slow weekday morning at Elliot Bay Bookstore on Capitol Hill. As least until the quiet is broken when a yellow school bus pulls up in front along 10th Avenue and 100 teenagers from Garfield High school file through the double entry doors. This is a special treat for these students. While it's a shopping spree that only lasts a few hours-- the real gift for these lucky students could last their whole lives.

"Reading is something that I do not usually do," says Daniel.

"My family does not have money for books," says Mira.

"I remember I used to read all the time," says Sabiriin.

We had several students read their essays to us that won them a spot on this field trip from nearby Garfield High School.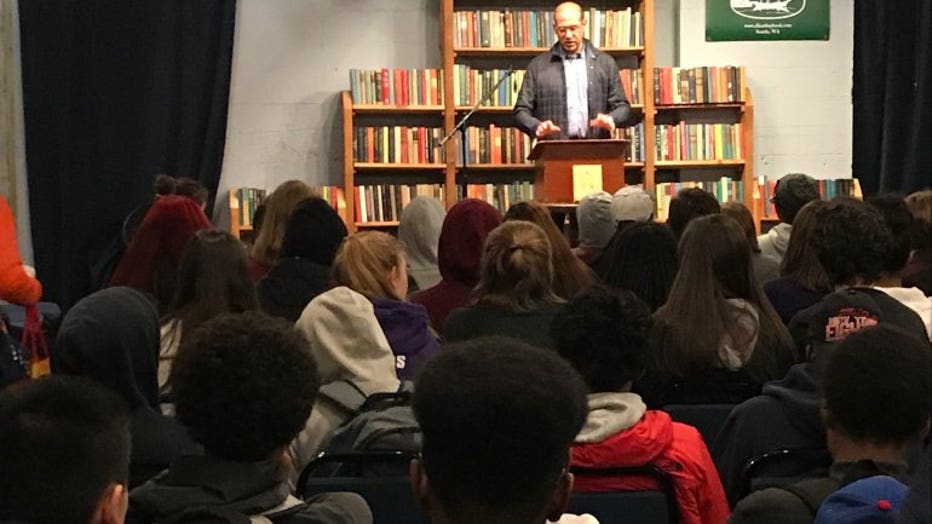 Garfield High English teacher Adam Gish addresses students in Elliot Bay Bookstore's downstairs reading toom.


"So, a new book is a novelty," says Mira.

"I miss the feeling of binge reading," says Sabiriin.

"I can experience the freedom to buy books that I want," says Daniel.

Garfield High english teacher Adam Gish pioneered the idea. "Literacy is a dry word, but it's every moment of our lives," says Gish. "It's about reading and writing the choices that we make."

Gish has been doing this type of shopping trip out of his own pocket with just a handful of deserving students on/off for about 17 years. Which for most of these teens is longer than they've been alive. The premise, says Gish, is simple: "If you get to pick it, there's a much better chance you will enjoy it and make it an experience you want to repeat."

Thanks to donations from Elliot Bay Books, University Village and an anonymous donor, the event this year has blown up from a few students to 100. Some of whom have never set foot in a bookstore before. Each of them able to get almost 60 bucks worth of new books.

"The universe is vast," says Gish. "A book can open you up to a path you never thought you would take."

And Gish says the essays help the students themselves discover their own relationship with reading. "It's dedicating themselves to understanding why they want to be here-- and for some kids it's already attached to a love of literature. For other kids it's cause they know that they don't but know it's a skill and tool they want to be able to utilize."

"I'm honored to be able to participate in it," says Mira.

"With this opportunity, I can explore more books," says Sabiriin.

"I want to improve my reading and writing skills," says Daniel.

And Gish says because these students are taking ownership of their own learning, this is a gift that could last them their whole lives.