Free to Breathe 5K RunWalk in Tacoma raises awareness for lung cancer; 'it's not a smoker's disease'


TACOMA, Wash. -- A passionate group of runners and walkers took part in the 10th Annual Free to Breathe event on Saturday at Wright Park in Tacoma that raised $50,290 for lung cancer research.  Their goal was $90,000 so donations are still being accepted through October 9.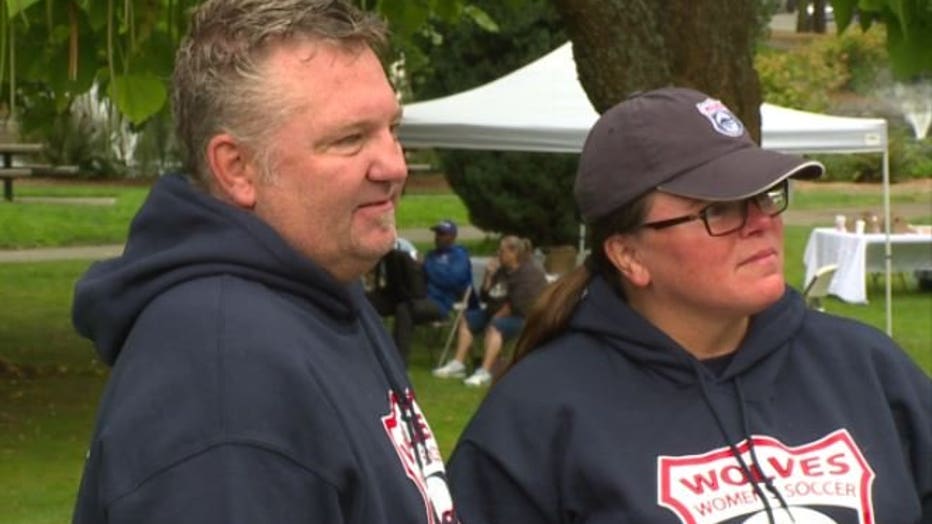 Olympia Fire Captain Jim Brown is battling Stage 4 lung cancer.


"Everyone out here today has some connection to cancer and that's what we all share. It's the brother and sisterhood," said Olympia Fire Captain Jim Brown who is battling Stage 4 lung cancer.

He underwent 30 rounds of chemotherapy and now takes pills to target the cancer cells. That treatment wasn't available a decade ago.

"Lung cancer suffers greatly with regards to research dollars. There's been a stigma all the way along that it's a smoker's disease. There's a lot of newly diagnosed non-smokers," said Brown.




Kaye Evans-Hillyard was diagnosed with lung cancer last year after she had pain in her hip.

"It's nothing that we ever think that as a non-smoker that we have to be aware of. What's really frightening about EGFR and other genetic mutations like mine is that they don't seem to run in families and there aren't any symptoms until you are Stage 4 like me," said Evans-Hillyard.

She's trying to raise awareness that lung cancer in women is on the rise.

Hillyard-Evans and her family participated in the 5K RunWalk for the first time this year.

"I should be dead now. I am alive only because of research and it means a lot to me that all of these people came out today," she said.

To make a donation to the Free to Breath Foundation, visit www.freetobreathe.org/pugetsound.