Franchise trade group files suit against Seattle's $15 minimum wage law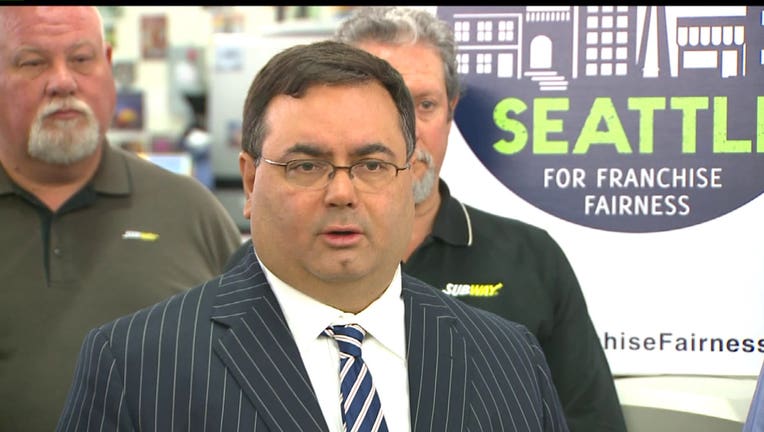 SEATTLE – The International Franchise Association (IFA) and five franchisees filed a lawsuit in U.S. District Court Wednesday seeking to block Seattle's new law to increase the city's minimum wage to $15 an hour.

The complaint alleges the new law illegally discriminates against franchisees and improperly treats them as large, national companies instead of small, locally owned businesses.

Seattle Mayor Ed Murray last week signed the law, which requires large businesses, defined as those with more than 500 employees, to raise the minimum wage they pay their employees to $15 an hour over three years beginning on April 1, 2015.  Smaller businesses have an extra four years, or a total of seven years, to phase in the wage increase.



IFA's lawsuit asserts that the Seattle statute unfairly requires Seattle's 600 franchisees, who own 1,700 franchise locations and employ 19,000 workers, to meet the three-year deadline for large businesses simply because they operate as part of a franchise network. The lawsuit argues that the Seattle ordinance defies years of legal precedent clearly defining a franchisee as an independent local business owner who operates separately from the corporation that provides brand and marketing materials.

"Hundreds of small, locally-owned businesses and thousands of their employees are unfairly threatened by Seattle's new law. We are not seeking special treatment for franchisees, we are just seeking equal treatment. The city's minimum wage statute arbitrarily and illegally discriminates against franchisees and significantly increases their labor costs in ways that will harm their businesses, employees, consumers and Seattle's economy," said Steve Caldeira, IFA president & CEO. "We hope the court will block the ordinance to save jobs and prevent Seattle from unfairly singling out one type of business – a franchise – for punitive treatment."

The complaint seeks an injunction to stop the law from going into effect as scheduled on April 1.

The plaintiffs are IFA; Charles Stempler, owner and operator of two AlphaGraphics stores in Seattle and three elsewhere in Washington state; Katherine and Mark Lyons, owners and operators of BrightStar Care of North Seattle; Michael Park, general manager and owner of a Comfort Inn in Seattle and president of the Korean American Hotel Owners Association; and Ronald Oh, general manager and an owner of a Holiday Inn Express in Seattle.

Read the full lawsuit here.