Four rescues in 7 days on Mount Pilchuck prompts Search & Rescue to warn it's not an easy day hike
EVERETT, Wash. -- The Snohomish County sheriff's Search and Rescue  (SAR) unit issued a warning Wednesday that hiking conditions are still dangerous on Mount Pilchuck near Granite Falls, especially for those who aren't well-trained and well-equipped.

"A late spring meltout and heavy winter snow pack on the mountain has made the trail up Mt. Pilchuck slippery and very hard to navigate," said SAR Sgt. Danny Wikstrom. "All of our recent rescue missions to Mt. Pilchuck have been above the snowline and three of them involved persons not dressed or equipped for the conditions on the mountain."

SAR and volunteers were called out for four rescues in seven days, the sheriff's office said. And two of the people pulled off of the mountain had serious injuries.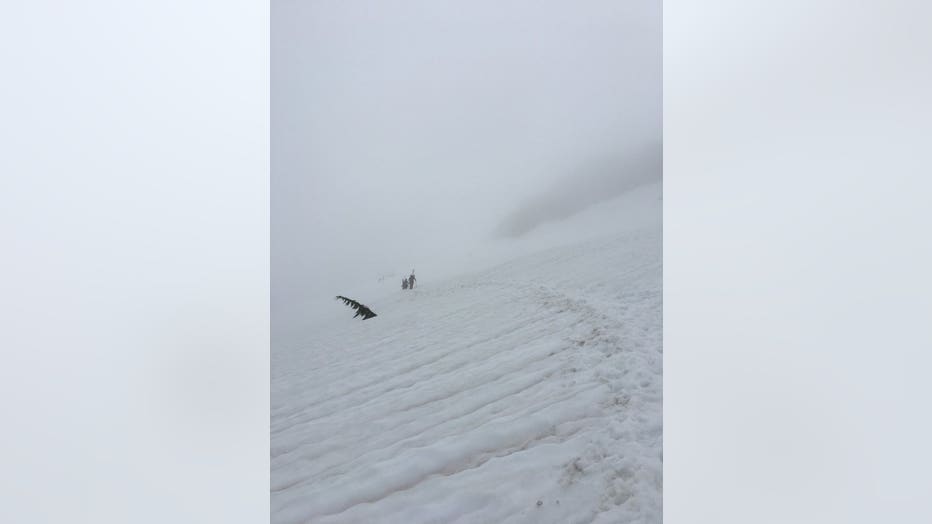 Photo of the trail above the snow line are from June 12, courtesy of Erin Melton (via the Washington Trails Association).


Wikstrom offered these tips and reminders:

• Carry the 10 essentials, including a map and compass.

• Stay on the trail. If you're unsure where the trail is, turn around.

• Only hikers who have the training and equipment to traverse snow fields, who have extensive knowledge of the Mount Pilchuck trail, and who are prepared for changing conditions – and to spend the night - should even consider attempting the trail.

• Do not rely on using your cellphone as your only emergency plan. Very little of the mountain (or anywhere in the area) has cellphone coverage.  Leave a hiking plan behind with someone who can call 911 if you don't return on time.